Traditional Cumberland sausages win protected status in Europe
Only Cumberland sausages made in Cumbria to specific standards can be called 'traditional' in future, Food Minister Jim Paice announced today.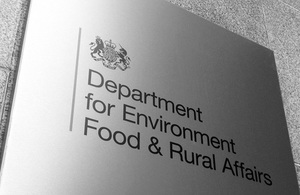 Traditional Cumberland sausages are now the 44th UK food and drink product to have its name protected throughout Europe, joining Cornish clotted cream and Stilton cheese in winning special status. The distinctively coiled sausage has been awarded Protected Geographical Indication (PGI) status, meaning that only sausages produced traditionally in line with a registered specification will be eligible to carry the PGI logo, guaranteeing the heritage and authenticity of the product. 
Mr Paice said:
"We're justly proud of British food and I'm delighted to welcome traditional Cumberland sausage as the first of our many fine sausages to win protected status.  This should be a significant boost to Cumbrian producers, who will now be able to prove that their product is the real thing.  It's also a boost to consumers who can have confidence in where their sausages come from.
"Today's achievement is a tribute to all the hard work led by John Anderson, the force behind the Cumberland Sausage Association, who sadly died last year."
Peter Gott, of the Cumberland Sausage Association said:
"This is a great milestone for the county and a well deserved place in England's food history for a truly sensational diverse food product."
Recipes for traditional Cumberland sausage vary from butcher to butcher but all are sold in a long coil and are highly seasoned, a relic of the region's prosperity in the 18th Century when it enjoyed a trading relationship with the Americas and Africa.  Rumour has it that the sausage dates back to the 16th Century influx of German miners to the area, but first documentation comes from 1911.
Traditional Cumberland sausages displaying the PGI mark will have been produced, processed and prepared in Cumbria and contain at least 80 percent meat and be at least 20 millimetres thick to achieve the characteristic coarse texture. 
Notes 
Further details about traditional Cumberland sausages can be found at Defra's protected food names web pages.
Defra work closely with ADAS, (the delivery body responsible for dealing with the administration of the scheme) and a wide range of other organisation to raise awareness of the Protected Food Name (PFN) scheme and encourage more applications.
The EU Protected Food Name scheme came into force in 1993.  It provides for a system for the protection of food names on a geographical or traditional recipe basis.   The designations are Protected Designation of Origin (PDO), Protected Geographical Indication (PGI) and Traditional Speciality Guaranteed (TSG). The scheme highlights regional and traditional foods whose authenticity and origin can be guaranteed.  Under this system a named food or drink registered at a European level will be given legal protection against imitation throughout the EU.
Further information about the EU scheme, together with application forms and guidance notes can be obtained from ADAS on 020 7238 6678, or email: irene.bocchetta@adas.co.uk.
Details of the scheme, including a full list of UK (and other Member States') products covered, can be found on the EU website: http://ec.europa.eu/agriculture/quality/
Forty-four British products now enjoy protection under the scheme including Arbroath Smokies, Cornish Clotted Cream, Melton Mowbray Pork Pies and Welsh Lamb.  There are almost 40 other applications currently in the pipeline to protect various UK products.
Published 18 March 2011