News story
Trading Standards to have more clout to protect consumers
The consultation also seeks to modernise consumer law by consolidating and simplifying officers' investigatory powers set out in around 60 scattered…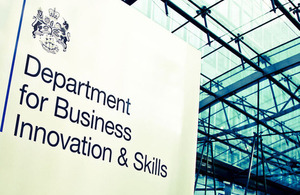 The consultation also seeks to modernise consumer law by consolidating and simplifying officers' investigatory powers set out in around 60 scattered pieces of consumer law into a single set. This will ensure these powers are transparent for both business and regulators.
The proposals are also aimed at reducing burdens on business, by requiring that officers' routine visits are pre-arranged unless there are compelling reasons for them to be unannounced.
The consultation follows the Government's agenda to simplify consumer law in response to the Red Tape Challenge.
Consumer Minister Norman Lamb said:
"The UK has one of the best consumer protection regimes in the world but because the current law has developed piecemeal over many decades, it is fragmented and overly complex, making it hard for consumers and business to understand.
"Trading Standards officers' enforcement powers are a prime example of this and we need a major simplification of the law to make it easier for them to tackle rogue traders and protect consumers nationally as well as at a local level."__
Ron Gainsford, Chief Executive of the Trading Standards Institute said:
"At this time of great economic pressure on local authorities, it is vital that Trading Standards are able to tackle rogue traders as simply, quickly and cost effectively as possible.
"We welcome a consultation that seeks to consolidate and simplify the investigatory powers used by Trading Standards and believe it is vital that all stakeholders contribute examples of best practice and evidence any concerns."
BIS also welcomed the publication today of a joint report by the Law Commission and the Scottish Law Commission on strengthening consumer protection against misleading and aggressive practices.
The Report follows the joint Commissions' consultation on proposals in April 2011 for stronger consumer protection and recommends new legislation to clarify consumer redress for misleading practices.
It would also give consumers subjected to aggressive practices a right of redress, including a right to cancel the contract for a fixed period of 90 days.
Examples of aggressive practices include sales people preying on vulnerable or elderly people, implying a connection with a charity, or refusing to leave the premises until they have secured a sale. BIS will respond formally to the Commission's report later in the year.
BIS will consult further on proposals to simplify other consumer rights later this year with the aim of bringing forward a new Consumer Bill of Rights to comprehensively update consumer law in order to scrap or reform some 12 pieces of existing legislation.
Notes to editors
You can see the consultation on the consolidation and modernisation of consumer law enforcement powers at http://www.bis.gov.uk/policies/consumer-issues/consumer-rights/consumer-law-enforcement-powers

The Red Tape Challenge was launched by the Prime Minister on 7 April 2011. It gives business and the public the chance to have their say on some of the more than 10,000 regulations that affect their everyday lives. The website is available at www.redtapechallenge.cabinetoffice.gov.uk

In 2008, the Office of Fair Trading (OFT) found that around one-third of consumers reported at least one problem in the last 12 months with goods or services purchased, leading to a total value of consumer detriment of £6.6 billion across the economy. Data indicates that the cost of consumer detriment at regional and national** **level where offences occur across local authority boundaries is in excess of £4.8 billion.

BIS's online newsroom contains the latest press notices, speeches, as well as video and images for download. It also features an up to date list of BIS press office contacts. See [http://www.bis.gov.uk/newsroom](http://www.bis.gov.uk/newsroom) for more information.
Notes to Editors
Contact Information
Name BIS Press Office Job Title
Division COI Phone
Fax
Mobile
Email NDS.BIS@coi.gsi.gov.uk
Name Ed Smith Job Title
Division Department for Business, Innovation and Skills Phone 020 7215 5945 Fax
Mobile
Email ed.smith@bis.gsi.gov.uk
Published 28 March 2012