News story
Trading abroad will help boost UK business
Speaking to business leaders in Cambridge at the Going Global: Helping small businesses trade abroad conference today - Business and Enterprise…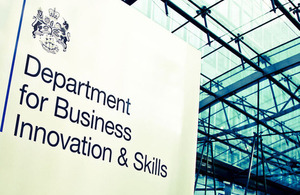 Speaking to business leaders in Cambridge at the Going Global: Helping small businesses trade abroad conference today - Business and Enterprise Minister Mark Prisk encouraged entrepreneurs to get trading and help boost the UK economy.
Business and Enterprise Minister Mark Prisk said:
"Giving businesses the confidence to trade abroad is vital to help boost growth in the economy. UK Export Finance is supporting SMEs by introducing a range of financial support for businesses that want to export but can't obtain the finance they need through the normal commercial routes.
"We are also helping businesses to protect their intellectual property abroad by introducing an online register of advisors as well as placing our first international attache in China to help UK businesses with enforcement issues. With support from UKTI we will give entrepreneurs the confidence to explore new markets and grow their business."
The conference was hosted by Vice Chairman of the European Parliament's International Trade Committee Robert Sturdy MEP.
Notes to editors:
This year the Government is running the _Business in You _campaign to encourage more people to start or grow their business throughout 2012 using a range of existing support services. More information is available at businessinyou.bis.gov.uk.

BIS's online newsroom contains the latest press notices, speeches, as well as video and images for download. It also features an up to date list of BIS press office contacts. See http://www.bis.gov.uk/newsroom for more information.
Notes to Editors
Contact Information
Name BIS Press Office Job Title
Division COI Phone
Fax
Mobile
Email NDS.BIS@coi.gsi.gov.uk
Name Dan Palmer Job Title
Division Department for Business, Innovation and Skills Phone 020 7215 5303 Fax
Mobile
Published 2 March 2012