Press release
Trade Minister urges British business to boost exports to Singapore
Lord Livingston will today (22 October 2014) bang the drum for more trade between the UK and Singapore.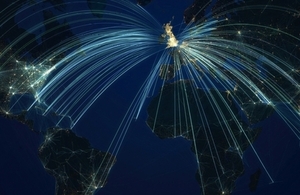 British Airways will introduce the Airbus A380 to its Singapore route from next week, creating an extra 1,020 seats a week
Lloyds Banking Group is making Singapore its Asian hub for commercial banking activities
Trade Minister Lord Livingston will today (22 October 2014) bang the drum for more trade between the UK and Singapore as Singaporean Head of State President Tan continues his UK state visit.
Many global organisations are already opting to use the Singapore as a base for their regional headquarters with the World Bank's Doing Business survey ranking Singapore as having the best business environment in the world.
On Friday 17 October 2014, the European Union (EU) and Singapore concluded negotiations for a Free Trade Agreement – the first the EU has agreed with an Association of Southeast Asian Nations (ASEAN) country.
While the growing importance of Singapore is further highlighted by British Airways' introduction of the Airbus A380 on its Singapore route next week – increasing weekly capacity by over 1,000 seats – and Lloyds Banking Group consolidating its Asian commercial banking activities in Singapore.
Lord Livingston will give the opening speech at the UK and Singapore Innovating Together for the 21st Century business event, taking place at the Royal Society in London.
Trade Minister Lord Livingston said:
It is a pleasure to welcome President Tan.

The UK and Singapore are both open economies, close trading partners and gateways for businesses to our respective regions. Singapore accounts for half of all UK exports to the South East Asian region and the UK attracts nearly three-quarters of all Singaporean investment in the EU.

I encourage UK companies to build on this relationship and look into the opportunities to do business with Singapore.
More than 1,000 UK companies operate in Singapore, with many investing significantly in their Singaporean operations. Rolls Royce's advanced technology centre at its Seletar Campus employs more than 700 people, greatly increasing its capacity to manufacture its Trent 900 and 1000 jet engines, as well as providing greater proximity to the group's growing Asian customer base.
UK-Singaporean partnerships span business, culture, entertainment and technology. Recent deals include:
The UK and Singapore enjoy a healthy trade and investment partnership. In 2013, the UK had a £1.7 billion trade surplus with Singapore and Singapore investment into the UK has grown nearly 6-fold since 2005.
Notes to Editors
For more information please visit: Twitter: @UKinSingapore / #SGStateVisit.
UK Trade and Investment (UKTI) is the government department that helps UK-based companies succeed in the global economy. It also helps overseas companies bring their high quality investment to the UK's economy – acknowledged as Europe's best place from which to succeed in global business. UKTI offers expertise and contacts through its extensive network of specialists in the UK, and in British embassies and other diplomatic offices around the world. It provides companies with the tools they require to be competitive on the world stage.
Singapore Free Trade Agreement: On Friday 17 October 2014, the European Union (EU) and Singapore concluded negotiations for a new Free Trade Agreement (FTA). The agreement, the first EU FTA to be signed with an ASEAN country, will bring benefits to the UK and across Europe, and will lay the foundations for future partnerships with South East Asia. Negotiations are currently in progress with Vietnam.
UK Investment Summit 2014 in Wales: On 20 and 21 November 2014, Wales will host an international investment conference which will create jobs and growth for the UK by presenting Great Britain as an outstanding environment for business growth and foreign direct investment. Following the NATO summit in September 2013, the Newport-based event will build on the profile of Wales and the UK as a world-leading place for international companies to base their operations and a land of opportunity for future investors eager for success in the global market.
Published 22 October 2014