News story
Trade minister tells companies in South West England to grow overseas
Lord Livingston's visit to Wiltshire on 2nd June 2014 encouraged exporters in the South West of England to grow their international customer base.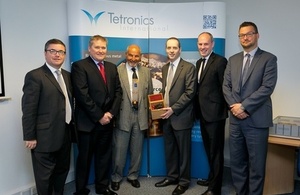 Lord Livingston, Minister for Trade and Investment, visited Wiltshire on 2nd June 2014 where he met 4 local companies with international growth ambitions.
Following his visit to the region Lord Livingston said,
I've been hugely impressed by the innovation and ambition I've seen today in Wiltshire. British products and services have a strong appeal around the world, and the heritage and expertise of companies in the South West make a great contribution to the UK brand.
UKTI support for Mid Size Businesses
Lord Livingston recently wrote to 9,000 Medium Sized Businesses (MSBs), telling them of the tailored support available to help them grow through exporting. Additionally, over 400 MSBs have been contacted by the UKTI team in the South West region to discuss the support available to help them.
Jason Carter, UKTI's Deputy Regional Director for the South West says:
Almost any business has the potential to start exporting, but many need the support and confidence to do so. I would urge the region's businesses to get in touch and find out how UKTI can help.
Visiting companies
Tetronics
Lord Livingston was given a tour of Tetronics International's state-of-the-art headquarters in Swindon. The company told Lord Livingston about their export success and international growth plans.
Graeme Rumbol, Chief Executive Officer (CEO) of Tetronics International said,
As a British environmental company specialising in resource recovery and hazardous material treatment, we have experienced significant global exports and forecast continued rapid growth both in the UK and overseas. The support provided by UKTI plays an important role in helping us meet our growth ambitions.
Canburg
Lord Livingston met with Devizes based Canburg to discuss how UKTI can help high growth MSBs. Canburg is a luxury design-based manufacturing and bespoke furniture business.
Leo Caplan, CEO and Chairman of Canburg said,
By working in partnership with UKTI, Canburg is given greater presence on the global stage to help us realise our vision to be recognised as the premier luxury kitchen specialists worldwide. Already enjoying an enviable reputation, realising our vision will help us not only secure the long term success of the company, but highlight our position as a great British manufacturer.
Dyson research facility
A visit to Dyson's research facility in Malmesbury gave the minister an opportunity to discuss the support the company received from UKTI and their growth in emerging markets, including Latin America and the Middle East.
SCISYS
SCISYS, based in Chippenham, is a mid-sized business which specialises in developing bespoke IT services and integrated systems in different sectors. It's looking to grow overseas and has recently starting working with UKTI on plans to increase sales in China.
Mike Love, Chairman of SCISYS said,
For leading edge technology businesses support from the UK Government is vital. At SCISYS the long term investment by the UK government in the UK National and the European Space programmes has been pivotal to our success and has led to many positive spin offs.
Summarising his visit, Lord Livingston said:
By working with companies like Tetronics, Canburg, Scisys and Dyson, we want to inspire other South West companies to grow their international customer base. Expert trade advice and support from UK Trade & Investment (UKTI) is available to all companies to start them on the path to exporting success.
Published 10 June 2014