News story
Trade mark and copyright crime targeted in new training project
IP crime is the counterfeiting of trade-marked goods such as clothes, pharmaceuticals, car parts and electrical goods and the piracy of copyrighted…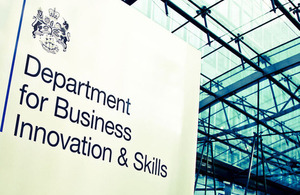 IP crime is the counterfeiting of trade-marked goods such as clothes, pharmaceuticals, car parts and electrical goods and the piracy of copyrighted material such as CDs, DVDs, software and games.
More than 350 prosecutors from the CPS are currently being specially trained to build successful cases against counterfeiters and pirates.
The move is in line with the recently published Hargreaves review of intellectual property and growth and the Government's IP crime strategy, which highlighted a need for a more integrated approach with partners to enforce IP rights.
Minister for Intellectual Property Baroness Wilcox said:
"The initiative will give prosecutors the most up to date information so they can successfully deal with intellectual property criminals. These offences are not victimless crimes. They have a detrimental effect on consumers, businesses, the economy and growth. Consumers are likely to receive poor quality or even unsafe products that simply aren't worth the price.
"There are huge events coming up in the UK such as the London 2012 Olympic and Paralympic games. There will no doubt be people looking to sell counterfeit goods using trade marks associated with the games."
Merchandise with an unauthorised London 2012 Olympic logo is already believed to be in the UK supply chain. Counterfeit cigarette lighters have been discovered at a car boot sale in the Coventry area and their source is being tracked down by Trading Standards.
Esther George, a Senior Policy Advisor at the Crown Prosecution Service said:
"Consumers will benefit from this new co-operation between the Crown Prosecution Service and the Intellectual Property Office. It may be that criminals take advantage of the opportunities offered by the London 2012 Olympic Games and Paralympic Games, so the CPS and IPO have worked together to develop training which will equip prosecutors to deal more effectively with the unlawful distribution of counterfeit goods."
The recently published IP crime report highlighted that more people than ever before are successfully being prosecuted for these types of crime. But, more needs to be done to tackle the criminals who cheat consumers into buying fake goods online at auction websites for example. The training includes a module for prosecutors specifically about these crimes. This will help the CPS tackle emerging threats to businesses and consumers online.
Anyone found guilty of offences under the Trade Mark Act 1994 or the Copyright Designs and Patents Act 1988 could face a 10 year prison sentence and/or a fine. In addition, the Proceeds of Crime Act (PoCA) allows criminals' gains from counterfeiting and piracy to be confiscated.
**Notes to editors
**1. The Intellectual Property Office (IPO) is within the Department for Business, Innovation, and Skills (BIS) and is responsible for the national framework of Intellectual Property rights, comprising patents, designs, trade marks and copyright.
Its role is to help manage an IP system that encourages innovation and creativity, balances the needs of consumers and users, promotes strong and competitive markets and is the foundation of the knowledge-based economy.

It operates in a national and an international environment and its work is governed by national and international law, including various international treaties relating to Intellectual Property (IP) to which the United Kingdom is a party.

The Government has accepted all recommendations that were made in the Hargreaves Review of Intellectual Property and Growth. The review recommended the Government should pursue an integrated approach based upon enforcement, education and measures to strengthen and grow legitimate markets in copyright and other IP protected fields.

The IP crime strategy was published at the same time as the Government's response to the Hargreaves Review. Details of the response and strategy are available at www.ipo.gov.uk/ipresponse.

Fake cigarette lighters displaying the Olympic symbol and stating London 2012 were discovered at a car boot sale in Coventry. 'London 2012' is a registered trade mark enforceable by The London Organising Committee of the Olympic Games and Paralympic Games Limited (LOCOG) and the Olympic symbol (the five interlocking rings) is protected by the Olympic symbol etc Protection Act 1995. Steps are being taken to trace the supply of the lighters - official London 2012 merchandise will incorporate the London 2012 hologram as part of the packaging or labeling.

Some consumers have been been duped into buying counterfeit soap powder at a similar price to the genuine item. As well as being an inferior product, the fake goods could also harm consumers as the chemicals used are not monitored or tested. In April 2010, several men were convicted of possessing 'virtually useless detergent' that was going to be packed into fake boxes of a well known brand. 25 tonnes of the powder was smuggled by the men from China and was destined for the UK market. Three men were sentenced to 12 months in prison each while two other men were given six month sentences suspended for two years and ordered to carry out 200 hours of unpaid work. A sixth man was jailed for two years. Following a confiscation hearing they were ordered to hand over more than £37,000 under the Proceeds of Crime Act (PoCA).

The IPO has an intelligence hub which acts as an information gathering and sharing body to support public and private investigations of IP crime. The 2010/11 IP Crime Report has been published and is available at www.ipo.gov.uk/pro-crime-report.

For further information, please contact Dan Palmer on 0207 215 5303 or e-mail dan.palmer@bis.gsi.gov.uk.
**
**
Notes to Editors
Contact Information
Name BIS Press Office Job Title
Division COI Phone
Fax
Mobile
Email NDS.BIS@coi.gsi.gov.uk
Published 23 August 2011