World news story
Trade, investment and democracy top agenda for UK Minister
Foreign Office Minister Hugo Swire is visiting Hong Kong this week.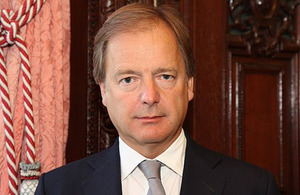 The Rt Hon Hugo Swire, Minister of State at the UK's Foreign and Commonwealth Office, will visit Hong Kong on 24 and 25 June on the first leg of a regional visit which will also take in Kuala Lumpur and Singapore. Before departing for Hong Kong, Mr Swire said:
I am delighted to be visiting Hong Kong next week. As the second largest market for UK goods in Asia-Pacific and home to Britain's biggest inward investor, there are huge opportunities to develop our trade and investment ties. But our enduring commitment to Hong Kong goes beyond that - which is why I am looking forward very much to discussing the roadmap to elections by universal suffrage in 2017 and 2020.
During his time in Hong Kong, Minister Swire will meet Chief Secretary of the Hong Kong Special Administrative Region Carrie Lam to discuss political and economic developments; visit the Legislative Council where he will discuss the prospects for universal suffrage with LegCo President Jasper Tsang and a group of legislators; call on the West Kowloon Cultural District Authority CEO Michael Lynch to explore the opportunities for UK businesses arising from this major infrastructure development; meet prospective investors; and present future leaders in Hong Kong with prestigious Chevening scholarship awards. He will also witness the signing of an agreement between the British Council and Tung Wah College for the provision of English teaching.
This will be Mr Swire's first official visit to Hong Kong since taking up his appointment in September 2012 as Minister responsible for relations with the Far East and South East Asia.
Further information
Follow Foreign Office Minister Hugo Swire on twitter @HugoSwire
Follow the British Consulate-General Hong Kong on facebook and twitter @UKinHongKong
Published 24 June 2013