Town hall transparency: Pickles' code to decipher middle management maze
A second radical phase in the Government's drive for greater openness will shine the torch of transparency on Town Hall middle management across…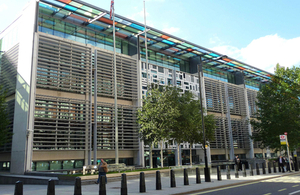 A second radical phase in the Government's drive for greater openness will shine the torch of transparency on Town Hall middle management across the country, Local Government Secretary Eric Pickles will announce today.
Over ninety five per cent of councils have published their spending data over £500 online. Latest reports to the Department show 346 councils in England are now online. Mr Pickles praised them for leading the transformation to transparent Town Halls. Eight are still to reveal data to the public.
A draft Code of Recommended Practice for Local Government Data Transparency is being published today for consultation, offering all councils, including those yet to comply, a clear outline of what will be expected of them.
In the new push for transparency, councils will be now be asked to publish an organisational chart including the names and responsibilities of staff paid over £58,200 - equivalent to the lowest Senior Civil Service pay band. Ministers believe this will give the public the full picture of a council's management composition.
The document also lays out core principles of data transparency, which Ministers believe all local authorities should embrace as part of the new era of accountability, including the expectation that they should publish information on salaries, voluntary funding, licensing, contracts or tenders, expenses and performance.
Councils will also be expected to respond to public demand for more information, where residents decide what data is important, so they can see exactly where their tax pounds go and how their council is performing.
The code also recommends a public inventory should be registered at www.data.gov.uk (external link), the Government's central information hub, in an accessible format so that it is easy to locate or reuse.
Secretary of State Eric Pickles said:
The taxpayer has a right to look under the bonnet of their Town Hall and see what decisions are being made on their behalf and where their money is being spent.

I asked all councils to put online everything they spend over £500 and I commend the majority have had the good sense to lead this transformation in transparency. Today I'm publishing a new code that will help decipher the Town Hall maze of middle management, bringing more public information to light. This will also give the few remaining refuseniks a clear game plan to follow.

Transparency must be the underlying principal behind everything councils do. Every aspect of council business should be open to public scrutiny including senior pay, councillor expenses, local services and voluntary sector funding. This can help save money in tough times, protecting the frontline by cutting waste and unnecessary costs.
Notes to editor
Consultation on the draft Code of Recommended Practice for Local Government data transparency will close on 14 March 2011. It applies to England only. Local Authorities will be expected to comply with data protection law and to take a risk management approach to payment fraud. Suitable approaches are included. The Code is available for comment at: http://www.communities.gov.uk/publications/localgovernment/codepracticeladataconsult.

The Code proposes the minimum datasets that should be released, openly and for reuse, by local authorities are:
expenditure over £500, (including costs, supplier and transaction information)

grants and payments under contract to the voluntary community and social enterprise sector

names, budgets and responsibilities of staff paid over £58,200 - equivalent to the lowest Senior Civil Service pay band

an organisational chart

councillor allowances and expenses

copies of contracts and tenders to businesses and to the voluntary community and social enterprise sector

policies, performance, audits and key indicators on the authorities' fiscal and financial position

data of democratic running of the local authority including the constitution, election results, committee minutes, decision - making processes and records of decisions.
Twitter
Keep up to date with the Department by following us on Twitter (external link).
Media enquiries
Visit our newsroom contacts page for media enquiry contact details.
Published 7 February 2011