Press release
Town hall trailblazers could save £5 billion in a digital decade
Kris Hopkins calls on councils to learn from town hall trailblazers who are making multimillion-pound savings.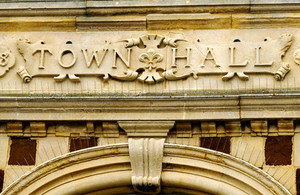 Local Government Minister Kris Hopkins today (12 February 2015) called on councils to learn from town hall trailblazers who have got to grips with the digital age and are making multimillion-pound savings by putting services online.
The minister was speaking as a new report highlighted how £500 million could be saved every year if all councils embraced these savings on offer through better services. The research suggests more than £5 billion could be saved over the course of the next decade.
The report reveals the majority of councils have now started updating services for their tech-savvy 21st-century citizens and this is saving millions for town halls to invest back into local services. However, a third of councils are still clinging to the analogue age.
The minister was clear this is holding back their local areas and costing hardworking families.
The research revealed average savings made by councils which have gone digital have increased from £1 million a year ago to £1.4 million in 2014, showing the potential savings on offer is continuing to rise.
Local Government Minister Kris Hopkins said:
Can do councils have led the way by proving that hundreds of millions of pounds can be saved every single year just by waking up to the digital dawn. It is high time the rest of local government follows suit.

As this report suggests, the sensible use of what have become commonplace 'every day' technologies could deliver at least £5 billion in savings over the course of a decade. This is money which could be ploughed back into improving frontline services and keeping Council Tax down.

If every council which hasn't already done so was to learn from those leading authorities they too would be able to make such sensible savings and deliver a better deal for local taxpayers.
Hampshire County Council looks set to save as much as £7.5 million by putting its services online and refocusing them back onto the modern needs of users.
A countywide programme to develop new digital infrastructure was supported by the government's transformation challenge award, which has pumped £110 million into helping town halls find innovative ways to improve services and save money.
Councillor Roy Perry, Leader of Hampshire County Council, said:
Digital public services offer a significant opportunity to reduce costs and make services more personal, accessible and joined-up around the needs of their users. Digital gives us another opportunity to reduce our asset base, providing the potential to significantly increase the savings.
Further information
Key findings in the report reveal:
digital technologies are generating estimated national savings of £322 million today across councils
65% of councils say digital tools and technology have delivered savings to their organisation over the last 12 months (2013: 60%)
the average saving per council stands at £1.4 million (2013: £1.06 million)
Digital benefits:
90% - will help citizens to interact with councils (2013: 84%)
90% - will facilitate service transformation (2013: 90%)
89% - will make the customer journey better for citizens (2013: 84%)
87% - will make their organisation more cost effective (2013: 80%)
64% - will improve accountability for citizens (2013: 49%)
Critical for digital success:
92% - digital leadership (2013: 93%)
85% - skilled internal digital resource (2013: 84%)
81% - data and information sharing between organisations (2013: 78%)
Digital blocks:
86% - legacy systems and ICT infrastructure (2013: 73%)
59% - unwillingness to change (2013: 50%)
58% - lack of in-house digital skills (2013: 42%)
51% - supplier inflexibility (2013: 34%)
Office address and general enquiries
2 Marsham Street
London
SW1P 4DF
Contact form http://forms.communiti...
General enquiries: please use this number if you are a member of the public 030 3444 0000
Published 12 February 2015