Press release
Town hall red tape slashed by a third
Further scope to cut burdens on local councils says Eric Pickles.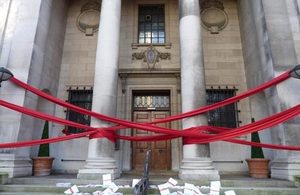 Town hall red tape has been cut by almost one third since 2010 as central government further reduces the reporting requirements on local authorities, Local Government Secretary Eric Pickles announced today (12 December 2013). 
The Department for Communities and Local Government has today published details of the data collections local authorities are required to submit to central government. Known as the single data list, it shows a further reduction in data demands, which builds on the significant progress already made.
A separate report commissioned by government today reveals that the number of datasets required by central government has been slashed by almost a third.
Comprehensive area assessment and local area agreements were scrapped in 2010, and since then 63 data collections have been stopped and a further 19 have been significantly reduced in scale.
Data is necessary for the effective management of services and accountability purposes. Robust, transparent and comparable data can also help citizens make informed choices and hold service providers to account. However it is recognised that the excessive collection, analysis and publication of data can be burdensome for local authorities.
This government is committed to reducing bureaucracy and freeing local authorities from unnecessary reporting burdens. Local Government Minister Brandon Lewis has written to council leaders to find out which further burdens could be reduced, collected in a less onerous fashion, or closed down completely.
Local Government Secretary Eric Pickles said:
Today's report shows that we have successfully reduced the top down red tape burden on councils by almost a third. But I want to see Whitehall go further and faster still.

This government is committed to ending the era of top-down micro-management and is giving councils new powers to work for their communities so they are accountable to local people rather than central government.
Further information
The single data list is a list of all the datasets that local government must submit to central government.
There are 6 principles for assessing proposed new data requirements from local government. Each data request must comply with at least 1 of these principles.
Central government may reasonably require data from local councils:
to fulfill international obligations, for example under EU directives
to support the effective administration of funding - clarity is important here in highlighting where data are being used as proxies (for example, data on free school meals being used as a proxy for need)
to support accountability to Parliament for national public funds and national policy decisions
to hold public services to account, for example holding government to account for national delivery
to support the evaluation of economic, social and environmental trends
to provide comparable local performance data, by exception, where it doesn't already exist, to enable local people to hold local services to account
The department set up a 'gateway group' on July 2012. It is responsible for ensuring that any new proposed data requirement is necessary, fully funded, places a minimal burden on local authorities and meets at least 1 of the 6 data principles before it can be added to the single data list. The gateway group has published its first annual report.
Published 12 December 2013