News story
Tougher penalties to combat illegal working
Employers could now face fines of up to £20,000 per illegal worker under new legislation.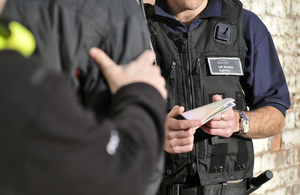 Measures introduced today (16 May) will make it simpler to check the immigration status of potential employees and double the maximum penalty for employers who break the law.
Repeat offenders who continue to hire illegal workers will now face fines of up to £20,000 per employee.
The changes also simplify the process for genuine employers: reducing the number of acceptable documents they may have to check, as well as the frequency with which these have to occur.
Immigration and Security Minister James Brokenshire said:
Illegal working is not a victimless crime. It defrauds the taxpayer, undercuts honest employers and cheats legitimate job seekers out of employment opportunities.

These measures send out a strong message to those who break the rules and hire illegal workers.

Through the Immigration Act we are also making it easier to enforce the payment of these penalties through the courts.
Measures introduced today include:
Reducing the range of acceptable documents that employers may have to check
Limiting the frequency of follow-up document checks for most employees with limited permission to be in the UK
Doubling the grace period for right to work checks for employees acquired as a result of a Transfer of Undertakings (Protection of Employment) to 60 days
Simplifying our guidance and improving our support for employers
Illegal working
To get tougher on employers who break the rules, we are also doubling the maximum civil penalty for the employment of an illegal worker to £20,000.
The increased maximum penalty better reflects the harm caused by employing illegal workers, the costs to wider society and the unfair economic advantage derived from the activity.
The changes follow a public consultation in Summer 2013 and are intended to support employers by ensuring they undertake the correct immigration checks on their employees.
Employers have had a duty to prevent illegal working since 1997 by carrying out specified document checks on people before they employ them. Since 2008, this duty has been underpinned by a civil penalty scheme and employers are now liable for a civil penalty if they employ
Published 16 May 2014