Tough new publicity rules for councils take effect today
Measures by Communities Secretary Eric Pickles to preserve a strong, vibrant, independent local press are now in force as new rules governing…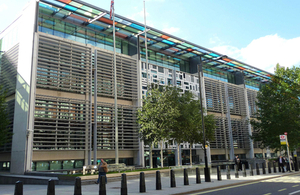 Measures by Communities Secretary Eric Pickles to preserve a strong, vibrant, independent local press are now in force as new rules governing taxpayer funded town hall freesheets and council publicity have been agreed by Parliament.
In recent years there has been a marked growth in the frequency and scope of council publicity techniques funded by taxpayers' money, whilst local papers have struggled in a saturated news environment. Mr Pickles has raised strong concerns over this use of taxpayers' money. He believes councils should focus their resources on protecting front line services.
A new publicity code strengthening the rules for English councils on what can be considered appropriate spending of taxpayers' money is now in force after approval by Parliament. Mr Pickles said that the new rules would strengthen the local democratic process.
The new rules bring to an end politically contentious advertising campaigns, prevent municipal newspapers being published more than four times a year, and halt the hiring of lobbyists by councils.
Communities Secretary Eric Pickles said:
We said that we would bring an end to improper council publicity and now a new code of practice is in force. These new rules make it crystal clear that taxpayers' money should be for protecting front line services not printing Pravdas or paying for professional lobbyists to put the squeeze on Whitehall. Publicity straying into propaganda clearly crosses the line of appropriate public funding whilst film reviews and TV listings sit far beyond the realm of council news.
Local Government Minister Grant Shapps said:
As councils strive to cut back waste their public spending should be under more scrutiny than ever and a vibrant and independent local press has a vital role to play holding those local leaders to account. But the boom in funded council papers in recent years has left many local newspapers out in the cold. Today we're giving local papers a fresh start.
Seven fundamental principles set out in the revised Code of Recommended Practice on Local Authority Publicity will make sure that council publicity is lawful, objective, appropriate, even handed and cost effective, with regard to equality and diversity and periods of heightened sensitivity. "Appropriate use of publicity" is defined below:
advertising should be balanced, factually accurate and not likely to be perceived by the public as a political statement or a commentary on contentious areas of public policy

councils should not publish newspapers in direct competition to local press. They should not appear more than quarterly and should only include material directly related to local services. Parishes will be able to issue monthly

councils should not spend taxpayers' money to lobby government through private sector lobbyists or through publicity stalls at party conferences
Notes to editors
1. Full details of the new Government Code of Recommended Practice on Local Authority Publicity can be found here: www.communities.gov.uk/publications/localgovernment/publicitycode2011.
2. The Code was originally introduced in 1988 and amended by the last Government in 2001. The revised Code applies to England only. The purpose of the Code was to ensure proper use of public funds for publicity. Effective, efficient publicity that successfully tells the public what they need to know about the services and activities of their council is legitimate; the public need information to hold their authority to account. The Publicity Code is statutory guidance to which local authorities have to have regard in the production of their publicity.
Twitter
Keep up to date with the Department by following us on Twitter (external link).
Media enquiries
Visit our newsroom contacts page for media enquiry contact details.
Published 1 April 2011