News story
Tottenham Hotspur vs. Reggae Boyz
Advice for fans travelling to the Bahamas for Tottenham Hotspur's match with the Jamaican Reggae Boyz on 23 May 2013.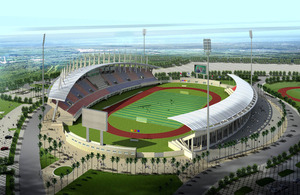 Date: 23 May 2013
Venue: Thomas A. Robinson National Stadium
Kick off time: 20:00 (local time)
As well as this advice, check out our travel advice for the Bahamas
Passports and visas
You don't need a visa to travel to the Bahamas, but your passport should be valid for at least 6 months after entry.
Your European Health Insurance Card (EHIC) is not valid in the Bahamas, so travel insurance is essential, even if you're only going for one night - it could save you a lot of money if you get into difficulties.
You may need to carry your government issued photographic ID to the match to gain entry to the stadium.
If you lose your passport, or have it stolen, you will need to obtain an Emergency Travel Document from the British High Commission in Kingston, Jamaica. Here is a link to advice on what you will need to apply.
Getting to the stadium
The stadium is located on Thompson Boulevard near the Queen Elizabeth Sport Centre between Nassau and Cable Beach.
Some public buses, called 'jitneys' locally, do stop at the stadium; ask your hotel's bell desk for information.
A taxi from the main resort areas, Cable Beach, Nassau or Paradise Island will cost approximately USD 12 (additional charges apply for more than two passengers) to get to the stadium and the journey time will be 15 – 25 minutes.
At the match
The West stand area S2 (lower and upper) have been allocated to Spurs fans, however you should enter the stadium based on the information on your ticket as some Spurs fans have been allocated seats in areas other than S2.
Access to the stadium can be slow. There will be ticket checks and body searches at the entrance. To avoid a last minute bottleneck you should get to the stadium early - doors will open at 18:00. Carry government issued photographic ID to the game, such as a driving license or passport, as you may be required to show it on entry.
In addition to items which would usually be prohibited in the UK, please note the following restrictions at the stadium:

No bottles or cans are allowed to be brought into the ground.
No alcohol can be brought into the stadium but will be available for purchase in the stadium.
Flags and banners without poles are allowed.
Musical instruments are permitted.
Any items deemed a threat will be confiscated and are unlikely to be returned.
Tips
Be vigilant at all times and don't walk alone away from the main hotels, tourist areas, beaches and in downtown Nassau, particularly after dark. Take care if travelling on local bus services after dusk. Do not carry large amounts of cash or jewellery. Robbers may be armed.
The water sports industry in The Bahamas is poorly regulated. Every year people are killed or seriously injured using jet skis and other watercraft carelessly, or by the reckless behaviour of others. Do not rent jet-skis or other water sports equipment unless you are an experienced user.
British High Commission address and telephone numbers
British High Commission
28 Trafalgar Road
Kingston
Jamaica

From the Bahamas: (+1 242) 2256033 (24hrs) (+1 876) 9360700 (24hrs)
From Wednesday 22 to Friday 24 May between 0900-1700 there will be a temporary consular office at the British Colonial Hilton, 1 Bay Street in Nassau. The office can be contacted on (+1 242) 463 7318 or (+1 242) 463 7319.
Emergency services numbers
Police / Fire / Ambulance: 911
Further information
Visit Bahamas website Follow @FCOtravel and @UKinCaribbean
Published 20 May 2013