News story
Top team appointed as UK Green Investment Bank company formed
Lord Smith of Kelvin will be the new Chair of UK Green Investment Bank plc. Currently Chair of SSE and The Weir Group, he has a strong financial…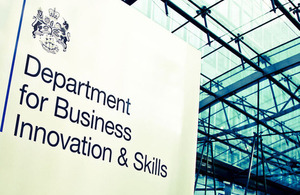 Lord Smith of Kelvin will be the new Chair of UK Green Investment Bank plc. Currently Chair of SSE and The Weir Group, he has a strong financial services background, chairing the group set up by the Financial Reporting Council in 2003 to clarify the role of audit committees.
Sir Adrian Montague has been appointed as Deputy Chair and Senior Independent Director. Sir Adrian, who is chair of companies including 3i and Anglian Water Group, has been chairing the GIB Advisory Group and has been closely involved with the development of the bank.
Vince Cable said:
"The UK GIB is a major new innovation vital to securing investment in what is one of the great challenges of our age, the decarbonisation of our energy supply. It has found two candidates of outstanding calibre well suited to leading the bank through its important early phase."
Lord Smith said:
"It is a pleasure to be asked by the Business Secretary to chair this groundbreaking institution. I look forward to working with Sir Adrian Montague and can't wait to get started."
Deputy Prime Minister Nick Clegg said:
"Lord Smith and Sir Adrian bring significant expertise and strong track records of delivery.
"Britain is already a powerhouse in green industries, but we are still not tapping all of our potential. I am determined that the Government will do everything it can to support this burgeoning sector and set the UK firmly on course towards a green and growing economy. The UK GIB will play a key part in this."
Scottish Secretary Michael Moore said:
"The UK GIB is set to play an essential part as we build and invest in a greener future. This is a UK institution headquartered in Edinburgh supported by a strong team in London and the news that Lord Smith and Sir Adrian Montague have been appointed is another step towards the bank opening for business. They bring a wealth of experience to the roles and will bring that to bear as we look to encourage private sector investment in key energy projects."
The newly formed Board will begin the recruitment of the company's other directors and senior executive team shortly; with a view to having the UK GIB fully operational this autumn, subject to state aid approval from the European Commission.
Following these appointments, the Advisory Group chaired by Sir Adrian Montague will be disbanded.
The UK GIB will be based in Edinburgh and London. Its headquarters will be located in Edinburgh, with an office in London. This arrangement will enable a greater commercial reach nationally than could be achieved from one location.
Legislation has also now been introduced, under the Enterprise and Regulatory Reform Bill, to set the Bank's green purpose, embed its independence and make funding provision for the Bank.
**Notes to editors:
**
1. Further information on the UK Green Investment Bank can be found at www.bis.gov.uk/greeninvestmentbank.
Lord Smith of Kelvin is currently Chair of SSE, The Weir Group plc, Glasgow 2014 (Commonwealth Games organising committee), and Director of Standard Bank Group Ltd. He was previously Vice Chairman (Deutsche Asset Management) of Deutsche Bank AG, and Chief Executive of Morgan Grenfell Asset Management.

Sir Adrian Montague CBE is currently Chair of 3i plc, Anglian Water Group, Hurricane Exploration and CellMark Investments AB. He was previously Chairman of Friends Provident Group plc, British Energy Group plc, and Founder Director and Deputy Chairman at Partnerships UK plc.

The Government is paving the way for the establishment of the UK Green Investment Bank by making investments, on commercial terms, in green infrastructure ahead of obtaining state aid approval for the GIB. Last month an initial £80 million was committed to two specialist fund managers who will make and manage investments in the small scale waste infrastructure sector on behalf of BIS's UK Green Investments team (UKGI). A further £100 million has been made available for investment in the non-domestic energy efficiency sector, with a competition for fund managers launched last month. The outcome of the competition will be announced in the summer.

BIS's online newsroom contains the latest press notices, speeches, as well as video and images for download. It also features an up to date list of BIS press office contacts. See www.bis.gov.uk/newsroom for more information.
Notes to Editors
Contact Information
Name BIS Press Office Job Title
Division Department for Business, Innovation & Skills Phone
Fax
Mobile
Email bispress.releases@bis.gsi.gov.uk
Name Rebecca Murrell Job Title
Division Department for Business, Innovation and Skills Phone 020 7215 6403 Fax
Mobile
Published 25 May 2012