News story
Top safety award for Dounreay
Dounreay has picked up one of Britain's top awards for workplace safety.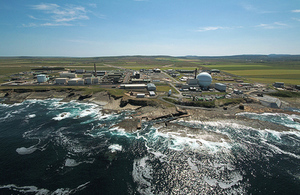 It was among the winners of the International Safety Awards 2012 presented by the British Safety Council at an event in London.
The award recognises the standards set by Dounreay Site Restoration Ltd to prevent harm during the decommissioning of one of Britain's most hazardous nuclear facilities.
Graeme Dunnett, safety assurance manager, and John Deighan, convener of the site safety reps, collected the award on behalf of the company at the awards ceremony.
Accident rates at the site have fallen since it was taken over by the Nuclear Decommissioning Authority and management transferred to a private contractor.
Rigorous controls are applied to minimise exposure in the workplace to radiation.
"The most successful site closure projects are also the safest," said Graeme. "Awards like this recognise the huge effort everyone is making to root out harm and make this the most successful site closure project in Europe."
John added: "Everyone here shares a common goal – to finish their job at the end of the day in the same condition they started, without causing harm to themselves or others. The trade unions work tirelessly with the company and the regulators to develop the safety culture and we'll continue to do so."
Alex Botha, chief executive of the British Safety Council: "What the winners have demonstrated is that well-managed health and safety ensures the safety and wellbeing of their employees, contributes to business effectiveness and success.
"The health and safety of employees is non-negotiable and the winners have shown their determination, like us, to ensure that no-one is killed, injured or made ill by work activities."
Published 30 May 2012