News story
Top public sector employer of the year
Stonewall has named the Home Office as the best public sector employer of the year for lesbian, gay and bisexual people.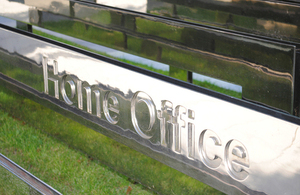 Being so prominent in the index recognises that the Home Office has continued to be a place where staff feel they can be open about their sexuality.
The award shows that the Home Office excels in ensuring that lesbian, gay and bisexual staff are represented and supported by senior managers and Spectrum, the department's own network group.
Great achievement
Equalities Minister Lynne Featherstone said: 'This is a great achievement for the department, and for all staff who have worked to help ensure equality is not just an add-on, but part of everyday practice.
'The Home Office will continue to challenge discrimination and promote a working environment in which people can be open about their sexuality and their gender identity. This is not only important for a fair and tolerant society but it is crucial to our success in delivering an effective public service.'
Recognition for Spectrum network
The Home Office received particular recognition for its Spectrum network, which provides mentoring schemes, buddying support groups, coaching and development for lesbian, gay and bisexual staff. The department also supports A:Gender, the support network for transgender staff in the civil service.
Published 12 January 2012