Press release
Top headteachers to make challenged schools a success
Deputy Prime Minister Nick Clegg announces 'Champions League of Headteachers' scheme.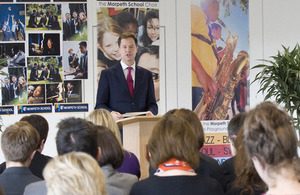 A new programme to get outstanding leaders into the schools that need them the most was announced today by Deputy Prime Minister Nick Clegg.
Schools that are facing the toughest challenges and are in need of a leadership boost will be matched with the nation's best and brightest school leaders to raise standards and improve the education offered to children.
The scheme will encourage schools that aren't able to attract the best talent to come forward and request a Champions League Head from the pool of top talent. This pool could include high-performing head teachers or exceptional deputy heads ready to take on this challenge.
The announcement will be made today in a speech by the Deputy Prime Minister, who will say:
This pool of top teaching talent, what I call our Champions League of Headteachers, will stand ready to move to schools in challenging circumstances: those schools, which are struggling to succeed, overcome the attainment gap for their disadvantaged pupils and need outstanding leaders.

So if you're a school facing tough challenges and finding it hard to recruit an exceptional leader, you'll be able to call on this team and request someone with a proven track record.

I want to ensure that more schools can benefit from the expertise of our best headteachers, so that we can build a fairer society in Britain where child in every region of our country can succeed.
The government will seek applications from headteachers and deputy heads who are keen to make a real commitment to the school, its staff and its children.
They will receive help to relocate to the areas where they are needed and the necessary professional support to turn the school around.
The programme will provide participants with support for the first 3 years, however, participants may choose to stay on at their school for longer than 3 years.
Notes to editors
The Champions League of Headteachers will be made up of voluntary exceptional headteachers and outstanding deputy heads who have a proven leadership track record.
The first of these leaders will be in place from September 2014 following a rigorous selection process.
Details about the application process will be announced in the new year. Applications will be invited from participants and schools across the country.
Published 24 October 2013