News story
Top female scientist honoured for a lifetime in physics
OBE honour recognises achievements of Ursula Steigenberger for services to science.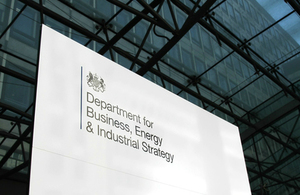 Leading female scientist Ursula Steigenberger-McEwen has been honoured by Minister for Universities and Science Jo Johnson for her work with an honorary OBE.
Ursula has had a remarkable career in physics; she has enhanced UK relationships with the international science community, nurtured the careers of aspiring scientists and carried out research in one of the UK's top research and technology institute.
Minister for Universities, Science, Research and Innovation Jo Johnson said:
This honour pays tribute to Ursula's years of hard work and innovation in the sciences.

Ursula not only receives this award for her contribution to physics, but as recognition of the careers of budding scientists she has nurtured and the relationships amongst the international scientific community that she has grown.

We should be proud of our UK science base and those, like Ursula, who are key to this. Science, research and innovation are key strengths of the UK, underpinning vital elements of our economy and national wellbeing.
After completing her PhD in Condensed Matter, Ursula began her career at the Institute Laue Langevin in France.
Ursula then moved to the UK to take up a post at the ISIS neutron facility, one of the world's leading centres for research in physical and life sciences. Whilst there, she was regarded as one of the most senior women working in UK physics.
Ursula spent more than 20 years at the ISIS neutron facility, working in a range of roles and finally becoming director before leaving in 2012.
Throughout her career Ursula has grown relationships with the international scientific community.
Ursula's team worked with Italian physicists to develop the PRISMA Spectrometer. This collaboration led to further engagement with the Italian community in instrumentation addressing scientific issues from studying the motion of molecules in complex compounds to testing the radiation hardiness of electronic systems.
Ursula has always championed the work of women in science and technology. Whilst a Fellow at the Institute of Physics she was part of a review of women in the physics workplace. This review led to the creation of the Juno awards, which address the under-representation of women in university physics departments.
The ceremony was conducted on Wednesday 8 February at the Department for Business, Energy and Industrial Strategy.
An OBE is a Queen's honour given to an individual for a major local role in any activity such as business, charity or the public sector. OBE stands for Officer of the Most Excellent Order of the British Empire.
Published 9 February 2017