Top entrepreneurs help small businesses enter government "Dragons' Den"
Six of Britain's top entrepreneurs have offered to help small businesses build their business proposals about better value services.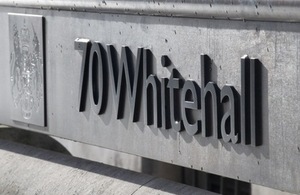 Six of Britain's top entrepreneurs have offered to help small businesses build their business proposals about better value services to a government "Dragons' Den" style panel, Minister for the Cabinet Office Francis Maude announced today.
The entrepreneurs will coach representatives from small and medium sized enterprises (SMEs) who have submitted successful ideas for innovative and cost-saving government goods and services to the recently launched online Innovation Launch Pad.
The Innovation Launch Pad, which opened on the Cabinet Office website in March, is open until 22 April. All SMEs are invited to submit their 500 word proposals for how their goods and services could help save the government money or deliver better outcomes. Civil servants will have the opportunity to vote for those ideas with the greatest potential. The chosen business representatives will then present their ideas to a panel of senior government business officials, following coaching by the entrepreneurs.
The mentors are:
Jon Moulton, founder and managing director of private equity firm Better Capital and member of the British Venture Capital Hall of Fame
Mike Lynch OBE, co-founder of software start-up and now the UK's largest software company Autonomy and also a trustee at NESTA
Hermann Hauser CBE, founder of over 20 technology companies including Acorn Computers, who has an honorary CBE for 'innovative service to the UK enterprise sector'
Sherry Coutu, founder of two highly successful businesses in the financial services industry, investor in 35 businesses, and rated as the 'top CEO mentor in Europe'
David Cleevely, co-founder of Abcam and founder of Analysys and Chairman of Cambridge Angels
Stephen Kelly, former CEO of Micro Focus and the government Crown Representative for mutuals.
The chosen businesses will also be invited to a reception at 10 Downing Street.
Francis Maude said:
This government does not believe there is a one size fits all approach to delivering services. That is why we want to make it easy for small businesses to tell us their ideas, as they will have a vital role to play in helping us to find new, innovative and more cost effective ways to improve services to the public. We also believe that supporting small business will help to kick-start growth in the economy. As part of this, we are doing everything we can to open up business to SMEs. We have committed to publishing all contracts online for business to see, got rid of the bureaucracy to allow new companies to supply government and appointed Stephen Allott to represent SME interests in government.
"Our Innovation Launch Pad means that all SMEs now have the opportunity to present their business solutions to us. I am delighted that such senior business figures have volunteered to help us to get the very best out of small business for government.
The government's Crown Representative for SMEs, Stephen Allott, appointed in February to give small suppliers a strong voice at the top table in government, said:
I am certain that there is substantial opportunity for government to save money and deliver a better service through much greater use of SMEs.  If you're an SME with a product or service that could save money, use the Innovation Launch Pad to tell us about it.
Innovation Launch Pad mentor, Sherry Coutu said:
I'm excited about the government adopting some of the innovations from the private sector, in this case in more ways than one! The innovation launch pad idea is something that has been used successfully in private business.
"With the likes of Hermann Hauser, Mike Lynch, Jon Moulton - and other notable entrepreneurs with experience of making successful proposals to the government - volunteering to work with the shortlisted companies to increase their chances of their proposals being accepted, I am very optimistic about this innovative process also working in the public sector.
"The government buying more goods and services from SMEs is key. One pound of a customer's money is worth ten times the amount of investment money to a small business. Given that 54 percent of jobs are created by 6 percent of small fast growth companies, this is excellent for everyone as small fast growing businesses will continue to drive the economy.
Mentor Jon Moulton said:
Small businesses in the UK have a fantastic reputation for innovation. The Innovation Launch Pad is a real opportunity for SMEs to showcase their proposals to government. I'm looking forward to working with the best suppliers to help develop their ideas into really strong business proposals.
Notes to editors
The Innovation Launch Pad was opened to business ideas on 28 March and closes on 22 April 2011. The Innovation Launch Pad and business proposals submitted so far can be viewed at
Selected SMEs will be invited to present their ideas to senior government officials at a Product Surgery. Product Surgeries were announced by the Prime Minister and Francis Maude at the SME Supplier Summit in London on 11 February 2011.
Stephen Allott's appointment as the first Crown Commercial Representative for SMEs was also announced on 11 February. His role is to build a more strategic dialogue between HM government and small suppliers.
Jon Moulton
Jon is a British venture capitalist and very active angel investor.
He sits on the boards of the Regional Growth Fund and the UK Stem Cell Foundation.
He is a Fellow of the Institute for Turnaround and a Corporate Financier in the Institute of Chartered Accountants in England and Wales.
He is a member of the British Venture Capital Hall of Fame.
He is also non-executive chairman at FinnCap, the UK based specialist growth company adviser and broker.
He is the founder and managing partner of the private equity firm Better Capital.
Dr Hermann Hauser CBE
Dr Hermann Hauser CBE is a serial entrepreneur and has wide experience in developing and financing companies in the information technology sector.
He is a co-founder of Amadeus Capital Partners.
He co-founded the Acorn Computer Group plc and subsequently became vice president of research at Olivetti.
During his tenure at Olivetti, he established a global network of research laboratories for the company.
Since leaving Olivetti, Hermann has founded over 20 technology companies. In 1997, he co-founded Amadeus Capital Partners, a leading European technology investor.
Hermann is a Fellow of the Institute of Physics and of the Royal Academy of Engineering and an Honorary Fellow of King's College, Cambridge.
In 2001 he was awarded an Honorary CBE for 'innovative service to the UK enterprise sector'.
In 2004 he was made a member of the Government's Council for Science and Technology and in 2009 took over the Chair of the East of England Stem Cell Network (EESCN) and became a member of the Government advisory panel for New Industry/ New Jobs.
He has honorary doctorates from the Universities of Loughborough, Bath and Anglia Ruskin.
Dr Michael Richard Lynch OBE, FREng
Mike is considered one of Britain's most successful technology entrepreneurs.
He is the co-founder and Chief Executive of Autonomy Corporation, the UK's largest software company by market capitalisation and a member of the FTSE 100.
He has held a number of advisory and board roles in the venture capital industry.
He was named the CBI's Entrepreneur of the Year, the European Business Leaders Awards' Innovator of the Year for pioneering new approaches to search and information processing technology, and Management Today's Entrepreneur of the Year 2009.
Mike won an IEE Award for Outstanding Achievement.
He was awarded an OBE for Services to Enterprise.
He is a pioneer in the area of computer understanding of unstructured information, an area which is becoming known as meaning based computing.
He is also a fellow of the Royal Academy of Engineering, a Lady Margaret Beaufort Fellow of Christ's College, Cambridge.
Sherry Coutu
Sherry is an entrepreneur and investor.
She was the youngest woman senior independent director on the London Stock Exchange Main Market.
She has been active in European venture since 1994 when she founded her first company. As an entrepreneur, Sherry established and successfully sold two businesses in the financial services industry. The first (acquired by Euromoney plc) has operations in more than 70 countries; the second was floated in 2000 on London and Nasdaq before being acquired by AMP plc.
Sherry is active in early stage investing and has raised several rounds of venture capital and public equity totalling more than $200 million.
Representative investments range from Alertme, I20, Cambridge Temperature Concepts, Lovefilm to Zoopla and Bonobos.
Sherry was voted the best CEO mentor/advisor in Europe by TechCrunch last year and one of the top 50 digital media 'power brokers' by Wired
David Cleevely
David is well known in the telecommunications world as an entrepreneur and industry expert.
He founded and was Managing Director of Analysys Ltd and has worked on projects with most of the major telecom companies in the world.
He is involved with a number of Cambridge start-ups in telecommunications, IT, and biotech, including Directorships at Cambridge Broadband and Bango.net and as the Chairman and Co-Founder of Abcam.
He is an active member of Cambridge Angels, the Founder of Cambridge Network, and is the Chairman of Cambridge 3G.
He is a Fellow of the IEE and serves on the IEE Telecoms Sector Panel.
Stephen Kelly
Stephen has over 25 years of delivering outstanding success in company growth and value creation.
He served as an Executive Director of Micro Focus International plc, during which time the company achieved a six-fold increase in market value in less than 4 years.
He served as a as the Chief Executive Officer of Chordiant Software, seeing it grow rapidly from a small start-up.
Stephen was announced as the Government's Crown Commercial Representative to support the creation of mutuals from existing service teams within central government departments on 3 April 2011.
Published 13 April 2011