News story
Top brands announce expansion plans at British Business Embassy retail, food and drink summit
British firms announced substantial UK and overseas investment at the British Business Embassy Retail, Food and Drink summit in London today…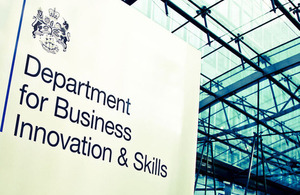 British firms announced substantial UK and overseas investment at the British Business Embassy Retail, Food and Drink summit in London today.
In a further boost to the sector, Vince Cable welcomed the appointment of Paul Walsh, CEO of Diageo plc, as a Business Ambassador for the food and drink industries. In this role he will help small and medium sized enterprises (SMEs) access global markets and grow their businesses overseas.
Business Secretary Dr Vince Cable said:
"The retail and food and drink sectors are major contributors to the UK economy. Retailers employ almost three million people, and food & drink is our single largest manufacturing sector - worth approximately £25 billion a year. Government is committed to working closely with firms in these sectors to stimulate growth and encourage new investment opportunities."
Environment Secretary Caroline Spelman said:
"The food and drink industry is already our largest manufacturing sector, supported by many overseas companies, showing what a great place to do business Britain is. The size of our food and drink industry also makes it a key driver for national economic growth and job creation.
"British food is already known the world over for its quality, and with surging population growth and clear demand for British products, there are opportunities for our producers to tap into emerging markets. The appointment of the new Food Business Ambassadors underlines the Government's commitment to this sector as a source of employment, growth and exports to help drive the UK's economic recovery."
UK Trade & Investment announced that it will present a new retail strategy, Delivering for the Global Consumer at the World Retail Congress 19-21 September. The strategy will support the sector by identifying the markets presenting the biggest opportunities for international development and expansion, and delivering a market access programme for the UK retail industry. Particular attention will be paid to the UK's world-class multi-channel offer for the retail sector, and to opportunities presented by the increasing global focus on sustainability, health and wellness.
British Retail Consortium (BRC) Director General Stephen Robertson said:
"This signal that the Government wants to support the UK retail industry overseas is welcome and exactly what we've been calling for. We're a significant exporter with overseas customers visiting UK retailers' websites and flagship retailers driving growth through international expansion. David Cameron is right that all branches of Government should work together to promote UK retail investment. We'll co-operate closely to develop the proposed international retail strategy but the ultimate test will be how much it really delivers progress in opening up markets for British retailers."
Melanie Leech, Director General of the Food and Drink Federation said:
"Food and drink exports are a major UK economic success story and like this year's Olympics on home soil, an achievement of which we can be truly proud. Today's event is a great opportunity to showcase that success and to promote our export potential to a global audience.
"Exports are a key part of our joint vision with Government to grow our sector 20 per cent by 2020. We have a strong global reputation for producing great-tasting and innovative products, and we firmly believe our sector has great potential for exports growth and that our SMEs, who are the backbone of our sector, can make a significant contribution to this success in the right supportive business environment."
The summit is one of 18 being organised by UK Trade & Investment during the Olympic and Paralympic Games to showcase British industry and promote international business opportunities. Speakers and participants include Marks and Spencer Chief Executive Marc Bolland, Diageo Chief Executive Paul Walsh, and Coca Cola Enterprises Global Chief Executive John Brock.
UK-international business
International business confirmed at the British Business Embassy today includes:
Nestle, which is sponsoring the Retail, Food and Drink Summit, announced that it will unite its Nestle Health Science operation in the UK, bringing together its core Healthcare Nutrition business with its Vitaflo operation in Liverpool. This will support the business in its ambition of becoming the UK's number one trusted nutritional advisor to healthcare professionals, caregivers and patients. This consolidation of expertise marks another milestone in Nestle's programme of investment in the UK which will see the company invest £500 million manufacturing facilities over the next three years.
Boots is announcing plans to grow its portfolio in Thailand by over 50 per cent in the next three years from 200 to over 300 stores. It has also just become the first ever pharmacy chain in Thailand to have 100 per cent of their stores accredited by the Thai Pharmacy Council.
Tesco Lotus, Tesco's business in Thailand, which has more than 1,000 stores, is opening three new state-of-the-art distribution centres. This substantial investment builds on the progress Tesco Lotus has already made to develop retail infrastructure in Thailand, will help Tesco Lotus build on its existing work with over 9,000 local Thai suppliers and SMEs, and will increase the company's employment of local people. Tesco Lotus plans to recruit at least 9,000 additional staff in Thailand this year.
King of Shaves, a leading UK razor manufacturer, is announcing plans to enter the fast-growing Turkish market with an agreement to supply ten of its products to leading retail chain Gratis. The Beaconsfield-based firm will start supplying its King of Shaves grooming range in September and expects orders of around £200,000 in year one if the products sell well.
**William Santus & Co Ltd **has announced a new contract to sell its traditional sweets in Japan, with the possibility of further expansion in Asia - all thanks to a wedding. After supplying the firm's "Uncle Joe's Mint Balls" as "favours" (guest gifts) for a wedding in Japan, a couple found the sweets were so popular with the Japanese that they approached William Santus with the idea of setting up a company to market them in Japan. Since launching in March, Tosei has generated such strong sales that William Santus & Co now expects first year export sales to Tosei to reach £70,000 and has identified potential for further growth in Asia, and therefore for expansion of its UK production and staff numbers.
Other participants in today's event include Alliance Boots Executive Chairman Stefano Pessina, Nestle Health Science President and Chief Executive Luis Cantarell, Kraft Foods Europe President Tim Cofer and Interactive Media in Retail Groups (IMRG) Managing Director John Andrews.
Notes to editors
Business Ambassadors undertake dedicated overseas visits on behalf of the UK Government; help promote the UK economy and UK business environment; and lobby for market access for UK firms, as well as leading trade events for SMEs and encouraging inward investment. They encourage more UK businesses to engage in international business activities, building on the range of existing support services offered through UKTI. A further Ambassador for the sector will be appointed this year.

The programme for all British Business Embassy events is at www.ukti.gov.uk Watch all British Business Embassy sessions live http://www.youtube.com/user/UKTIWeb. Follow events live on Twitter @BritBizClub and join the conversation using hashtag #BritBizEmbassy.

UK Trade & Investment (UKTI) is the Government Department that helps UK-based companies succeed in the global economy. We also help overseas companies bring their high quality investment to the UK's economy - acknowledged as Europe's best place from which to succeed in global business. UKTI offers expertise and contacts through its extensive network of specialists in the UK, and in British embassies and other diplomatic offices around the world. We provide companies with the tools they require to be competitive on the world stage. For more information on UKTI, visit www.ukti.gov.uk or visit the online newsroom at www.ukti.gov.uk/media.
Factfile
Around three million people work in retail, the largest private sector employer in the UK, accounting for 10.5% of total employment. The sector generated retail sales of £303 billion in 2011, equivalent to around 20% of UK GDP.
The UK has a rich and diverse retail environment that includes many brands with international recognition from Harrods to Tesco and from Burberry to Next.
UK retail is at the vanguard of multichannel shopping with Europe's largest e-commerce market (equivalent to Germany and France combined) with a value of approximately £70 Billion. In the UK, shopping through mobile devices is continuing to grow at remarkable speed.
The sector is an early adopter of new technology and a world leader in retail innovation including self service tills, click & collect, mobile and tablet shopping and contactless payments.
Events such as London Fashion Week, one of the world's premier fashion events, ensure the UK continues to be a world leading tourist/consumer destination. Meanwhile, London is seen as a world shopping mecca, mixing the history of Britain's leading heritage brands with the latest fashion and technology. Europe's largest shopping centre, Westfield Stratford City, has opened at the Olympic Park in London, and along with its West London shopping centre coupled with Oxford Street and surrounding West End, offers some of the finest retail experiences in the world.
The retail sector consistently accounts for 5% of Gross Value Added in the UK economy.
The UK's online retail market is set to grow 13 per cent in 2012 - cashing in a huge £77bn.
The market has exploded in recent years, with 30 per cent of all cross border trade in Europe going through UK retailers.
Sales via mobile devices grew from 0.4% of e-retail sales at the start of 2010, to 5.3% in the space of just two years (includes tablet devices).
2.6% of visits to e-retail sites were through mobile in 2010; this surged to 8.2% in 2011.
14% of all UK investment made by large non financial sector firms is made up by large retailers.
Retails purchase around £180bn worth of goods for resale, supporting £47bn of output from other sectors.
Retailers pay out £4bn every year in dividends to shareholders, around 5% of the UK total.
UK consumers pay around 5% less for their basket of goods than other European consumers.
Labour productivity in the UK retail sector rose by over 40% from 1995 to 2007, compared to less than 10% in France and Germany.
The retail sector pays £17.5bn per year, 9% of the UK total, of VAT, Business Rates, National Insurance and Income Tax.
Notes to Editors
Contact Information
Name BIS Press Office Job Title
Division Department for Business, Innovation & Skills Phone
Fax
Mobile
Email bispress.releases@bis.gsi.gov.uk
Name Oliver Fry Job Title
Division Department for Business, Innovation & Skills Phone 020 7215 5965 Fax
Mobile
Published 9 August 2012