World news story
Tokyo 2020: Ambassador's congratulatory message
From London's legacy to Tokyo's future, the UK joins Japan in looking forward to the benefits of being an Olympic and Paralympic host nation.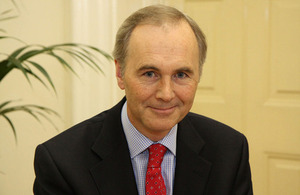 As Tokyo celebrates the International Olympic Committee's announcement that the capital will host the 2020 Olympic and Paralympic Games, British Ambassador to Japan, Tim Hitchens has extended a message of congratulations to Japan and the successful Tokyo 2020 Olympic Bid Committee.
On behalf of the British Government in Japan, I am delighted to join Prime Minister David Cameron and Foreign Secretary William Hague in congratulating the city of Tokyo on its selection as host of the 2020 Olympic and Paralympic Games.
Just as the London 2012 Olympic and Paralympic Games showed people around the world the very best that Britain has to offer both on and off the track, I hope that Japan will reap similar long-term rewards, with the 2020 Games becoming a catalyst for regeneration, growth and optimism in Tokyo, and across Japan.
The news of Tokyo's selection comes just over one year on from London 2012. London's legacy planning was hailed by the International Olympic Committee as a 'blueprint' for future games and this legacy continues to have a positive impact on every aspect of British life – whether it be changing the face of East London, changing attitudes to disability, deploying greener technologies inspired by Olympic venues or boosting the number of international tourist visitors to the UK by three per cent this year alone. It has also been estimated that since the London 2012 Olympic closing ceremony, the associated economic benefit to the UK totals £9.9 billion, far exceeding initial expectations. Preliminary figures also show an initial £2.5 billion boost to Foreign Direct Investment as a result of the Games, bringing with it more than 31,000 new jobs.
Tim Hitchens added:
Hosting the Games brings the world to the host city but it also helps take talent and businesses from the host city to the world. I am delighted that this sharing has already begun in Japan with British architect Zaha Hadid chosen to design Tokyo's new National Stadium. I look forward to the continued opportunities for exchange and collaboration that this Olympic connection will now bring our two countries, and I look forward to cheering on Team GB in Tokyo 2020.
Published 9 September 2013