News story
'Time for clarity on budget' business tells Paterson
Owen Paterson MP addressed business leaders at the Enterprise NI conference in Belfast.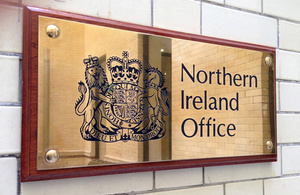 Members of Chambers of Commerce and other business leaders have told Secretary of State, Owen Paterson MP, that it is time a budget based on the spending review settlement is agreed quickly by the Executive.
This week Mr Paterson has spoken on the economy at Chamber of Commerce meetings in Portrush, Newry and Londonderry. He also gave the keynote address at the Enterprise NI Tenth Anniversary Conference at the Waterfront Hall, Belfast.
Mr Paterson said:
There is a very clear message coming from the private sector in Northern Ireland. It is that we all need to work together to rebalance the economy starting from now.
The government will play its part with the Treasury paper on the economy due in the coming weeks. It will look at possible ways of turning Northern Ireland into an enterprise zone and potential mechanisms for giving the Executive the power to vary corporation tax.
The great strength of devolution is that local decisions are taken by locally accountable ministers. So I hope that a budget based on the spending review settlement can be made quickly as has already been done in Scotland and Wales.
Mr Paterson reiterated the government's willingness to assist the Irish government if asked.
Mr Paterson said:
Every business man and woman in Northern Ireland knows how important it is to have a strong and stable Irish economy and a sound banking sector. The UK as a whole exports more to Ireland than to China, India, Brazil and Russia combined.
As the Prime Minister and the Chancellor have emphasised, it would be wrong to speculate about the financial health of another country in the European Union. But it is massively in the UK's interest to help Ireland through any difficulties it may face and I reiterate that, if asked, we will do all that we can.
Published 19 November 2010