Press release
Thrill-seekers taking 'storm selfies' are risking lives
The Environment Agency and the Royal Society for the Prevention of Accidents (RoSPA) are warning that people posing for 'storm selfies' are putting their lives in danger.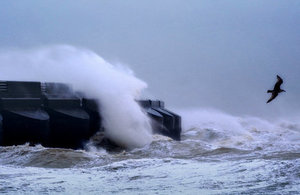 As Storm Barney hits Britain, the two organisations are urging thrill-seekers not to put themselves at risk by taking photographs of themselves along wave-battered promenades and breakwaters.
On Tuesday (17 November) afternoon and evening, gale or severe gale force westerly winds are expected to generate large waves around exposed coasts in south-west England and the English Channel. Some localised spray and wave overtopping is possible but overall the coastal flood risk is very low.
Last year, coastal flooding led to people taking unnecessary risks to capture dramatic moments along the country's coastline. Videos of people getting swept along roads by waves even became internet hits. It is also important to avoid driving along promenades with spray or through flood water. But according to a joint Environment Agency and AA survey, more than half (54%) of UK drivers would endanger themselves and their vehicles by driving through moving flood water.
Neil Davies, duty flood risk manager at the Environment Agency, said:
The power of Mother Nature is a fascination to us all – and taking storm selfies may seem exhilarating – but over the last few years we've had an increasing number of people putting themselves and family members at severe risk along coastal paths and promenades. Floods destroy so take care and be prepared. Find out if you are at risk and sign-up for early flood warnings. Stay safe and act now to be better prepared for flood to reduce the impact it could have on your family, your home and your business.
David Walker, leisure safety manager at RoSPA, said:
We understand the temptation to view powerful tides and weather conditions, however, if you get caught up or swept out to sea in these events your life will be at risk very quickly and our rescue services will also be at great risk. Listen to the advice of the coastguard and the police about safe places to be. Floods are devastating so do not be afraid to seek medical help or support.
Try to avoid walking through flood water because there may be hidden hazards such as potholes and missing manhole covers. If you have to walk, be aware of the power of moving water, try to wear waders and take a stick to check the ground in front of you as this may save your life.
Practical steps you can take to keep safe include signing-up for the Environment Agency's free flood warnings, knowing what to do in a flood – particularly if you are away from home – and following advice from coastguards.
Notes 1 AA and Environment Agency survey: Populus interviewed 21,165 adults aged 18+ on The AA/Populus online panel between 11-17 October 2013.
To sign-up for free flood warnings: go to www.gov.uk/sign-up-for-flood-warnings or call Floodline on 0345 988 1188
For the latest Environment Agency news visit: https://www.gov.uk/government/organisations/environment-agency and our blog, Creating a better place: https://environmentagency.blog.gov.uk/
Published 17 November 2015