News story
Three years for sham marriage 'fixer'
Abiola Abdulkareem was arrested as the wedding of Idowu James Ojomu from Nigeria and French national Maria Deroff got underway.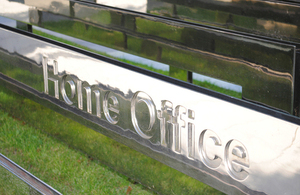 Abdulkareem helped arrange the ceremony that Ojomu hoped would gain him permission to live and work in the UK.
UK Border Agency investigators found that in the months leading up to the ceremony Ojomu had transferred around £5,000 to Abdulkareem.
Following his arrest in Abingdon, evidence of involvement in a number of other suspicious weddings was discovered.
One size fits all wedding ring
Among the items seized from him was a wedding ring that had been cut to fit anyone's finger.
Nigerian national Abdulkareem admitted four charges of assisting unlawful immigration (including a charge relating to the Ojomu marriage) and one charge of bigamy, but following a trial at Oxford Crown Court in June he was also found guilty of another count of assisting unlawful immigration and money laundering offences.
Today, a judge at the same court sentenced him to three years in prison, and ordered that he should be deported after serving his sentence.
Assistant Director of the UK Border Agency's Criminal and Financial Investigation team, Sam Bullimore said: 'Our main aim is to identify the organisers like Abdulkareem who profit from and fuel the demand for sham marriages and destroy their criminal business.
'We work very closely with the registrars in Oxfordshire and across the region to identify marriages that may not be genuine, and where we suspect that may be the case we will investigate.'
At previous hearings in 2010 Ojomu had pleaded guilty to charges of perjury and overstaying his visa, while Deroff had admitted perjury and assisting unlawful immigration. They received sentences of 11 months and eight months respectively. Ojomu was removed from the UK in December 2010.
Oxford sham marriage 'fixer' on Flickr
Published 20 July 2011