Press release
Three new non-executive directors join The Pensions Regulator
The Department for Work and Pensions has announced the appointment of three new non-executive directors to The Pensions Regulator.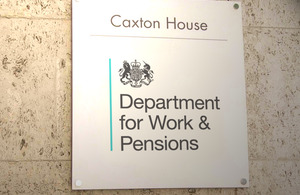 The Department for Work and Pensions has announced the appointment of three new non-executive directors to The Pensions Regulator.
Ann Berresford, David Martin and Graham Mayes will take up their four-year appointments at the Regulator from 1 February onwards.
The organisation is responsible for protecting the benefits of members of work-based pension schemes.
Michael O'Higgins, Chair of The Pensions Regulator said:
These appointments bring an enormous amount of experience and knowledge to the board and I look forward to working with Ann, Graham and David. Overseeing the work of the Regulator is a vital role and success lies in the diversity of insights that all members bring to the table.

I would also like to thank the current members of the Board who are stepping down at the end of eight years of service, Alan Pickering and Chris Swinson.
Notes to Editors:
David Martin and Graham Mayes have been appointed from 1st February 2013; and Ann Berresford will take up her post when her current appointment with the Pension Protection Fund ends.
Non-executive Board members are appointed for a period of four years. The current remuneration is £17,992 per annum. These appointments have been made in accordance with the OCPA Code of Practice.
Ann Berresford is a Chartered Accountant who has worked in a range of financial roles across different businesses and has gained broad general management and strategic experience on the Boards of large and small organisations. She was UK Finance Director for the Bank of Ireland Group (1998-2006) and was also the Finance and Administration Manager and Group Treasurer for Clyde Petroleum (1985-1998). Ann is currently a Non-Executive Director of the Pension Protection Fund and is a Non-Executive Director with the Bath Building Society and Triodos Renewables plc. She is also an independent trustee of a Local Government Pension Scheme - the Avon Pension Fund.
David Martin has 40 years' experience in the pensions industry, including 30 years of giving direct advice to Trustees of occupational pension schemes. He is an actuary and was, until recently, a partner at Mercer Ltd and its predecessor companies (1980 to 2012). David is involved at a senior level with the Institute and Faculty of Actuaries. He is a vice-chair of the Professionalism Committee of the International Actuarial Association, and an officer of the Groupe Consultatif - a grouping of the European Actuarial Associations.
Graham Mayes is a finance professional with 30 years' experience in the global consumer goods industry with Kimberly Clark and Unilever. He has held numerous financial positions with Kimberly Clark including Director of Finance for the MEA region (2006-2009). He was the Logistics Director for Unilever's colour cosmetics UK and German operations (1994 -1996). He is currently a trustee Director for Kimberly Clark Pension Trusts Ltd and is a Non-Executive Director Designate with the Dartford and Gravesham NHS Trust.
Media enquiries: 0203 267 5108
Out of hours: 07659 108 883
Published 16 January 2013