News story
Thousands take up the Red Tape Challenge
Comments have called for changes to, and the end of, many of the rules and regulations that affect the retail sector, from Sunday Trading to…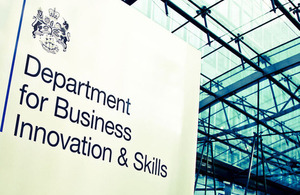 Comments have called for changes to, and the end of, many of the rules and regulations that affect the retail sector, from Sunday Trading to bike safety.
Retail sector champion, Dr Kevin Hawkins, welcomed this initial response but urged more retailers, suppliers, trade associations and consumers to get involved and suggest easier, less bureaucratic ways to tackle the issues raised. He said:
"The response so far has been outstanding, but make no mistake this is an opportunity that is too good to miss. For the first time the Government wants to hear from those at the sharp end of the complex, sometimes overwhelming, amount of regulation. Tell us about those rules that really waste your time and money or better still suggest ways of tackling the issues that will make life better for you and your customers.
"And with the burden of responsibility on Ministers to make a case to keep regulations, it's your voice that will shape the decisions on the way we do business in the UK."
Over 6,000 comments have been made during the first week of the new website www.redtapechallenge.cabinetoffice.gov.uk including discussion around:
simplifying the complex range of age restrictions on buying products, making it easier for businesses and consumers to understand;
the use of metric and imperial measures and simplifying weights and measures regulation;
amendment of the egg marketing regulations so that small scale producers can sell their eggs to local retailers without eggs having to be stamped, promoting growth and local produce; and
repeal of Trading with Enemy Orders.
The website also gives the opportunity to comment on a wide range of cross-cutting regulations that affect retailers and consumers, including employment law and health and safety. In future months the website will also deal with other issues that have an impact on the retail sector such as labelling and planning.
The opportunity to comment on regulations affecting the retail sector runs until 4 May. The following day will see the launch of regulations for the hospitality, food and drink sector.
Notes for editors
The Red Tape Challenge was launched by the Prime Minister on 7 April, giving the public a chance to have their say on the more than 21,000 regulations that affect their everyday lives.

The first five themes of the Red Tape challenge campaign will be:
a. Retail (open for four weeks beginning April 7);
b. Hospitality, food and drink (beginning May 5);
c. Road transportation (beginning May 19);
d. Fisheries, Marine enterprises and inland waterways (beginning June 2nd); and
e. Manufacturing (beginning June 16).
The campaign will also have six cross cutting themes that affect all businesses and are open throughout the whole of the campaign. The six cross cutting themes are:
a. Employment law;
b. Pensions;
c. Company law;
d. Equalities;
e. Health and Safety; and
f. Environment legislation.
For each sector theme, there is an experienced 'sector champion' who will provide expert knowledge on the issues faced by those on the shop floor. The champion acts as an intermediary between the sector and Government and help to direct the web-based debates and discussions.

Retail sector champion Dr Kevin Hawkins OBE is a former Director General of the British Retail Consortium and Director of Communications for Safeway Stores plc. Kevin is an economist who has written books on unemployment and industrial relations and has been a member of the Cabinet Office Better Regulation Task Force/Better Regulation Commission.

The Government's plan for growth is available at: http://cdn.hm-treasury.gov.uk/2011budget_growth.pdf

BIS's online newsroom contains the latest press notices, speeches, as well as video and images for download. It also features and up to date list of BIS press office contacts. See http://www.bis.gov.uk/newsroom for more information.
Notes to Editors
Contact Information
Name BIS Press Office Job Title
Division COI Phone
Fax
Mobile
Email NDS.BIS@coi.gsi.gov.uk
Name Nick Evans Job Title
Division Department for Business, Innovation and Skills Phone 020 7215 3496 Fax
Mobile
Published 15 April 2011