World news story
Thomas Drew CMG, discusses scope for increasing business with Khyber Pakhtunkhawa
The British High Commissioner to Pakistan, Thomas Drew CMG, met the President of the Khyber Pakhtunkhwa Chamber of Commerce and Industry, Mr Zulfiqar Ali Khan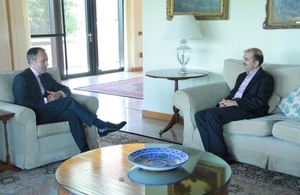 He also met other prominent business leaders from the province to discuss potential trade opportunities for Pakistani and British companies.
Khyber Pakhtunkhwa is the focus of much of the UK's development support. The UK has also been working closely with the government of KPK to make technical improvements to support growth in the region.
Speaking following his meeting, the British High Commissioner to Pakistan, Thomas Drew said:
I enjoyed meeting Khyber Pakhtunkhwa's business leaders, and was impressed by their drive to boost the economy and trade links within Pakistan's borders and with the rest of the world. A strong economy is the best guarantor of Pakistan's stability. This is what will enable Pakistan to fulfil its considerable potential.

The UK is the fifth largest exporter to Pakistan, with many British companies operating here. We have recently opened the British Business Centre in Karachi to facilitate trade links between the UK and Pakistan and to enable British and Pakistani businesses to grow. We plan to open an office in Lahore shortly.

We want to see more British companies working across Pakistan, including in Khyber Pakhtunkhwa and its capital Peshawar. The province, with a long and proud history of trade and a wealth of natural resources, has great potential, especially given the increased access to EU and UK markets under the GSP+ agreement.
Notes for Editors
The British High Commissioner to Pakistan, Thomas Drew CMG tweets at @TomDrewUK
Published 20 April 2016