This week on the Foreign Office Global Conversations blog
Sudan, the EU Presidency and the Middle East where amongst the topics discussed by Foreign Office bloggers.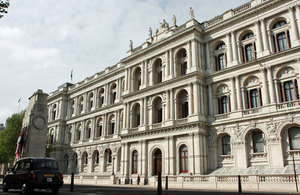 In a video blog the Foreign Secretary William Hague spoke about his recent visit to Afghanistan and Pakistan along with the UAE Foreign Minister, H.H. Sheikh Abdullah Bin Zayed Al Nahyan.
Minister for the Middle East Alistair Burt recorded two video blogs about his recent three day visit to Israel and the Occupied Palestinian Territories.
The British Embassy in Warsaw launched a blog site that will feature a series of bi-weekly blogs from Embassy staff working closely on issues relating to Poland's six month EU Presidency. First to blog was Steven Chandler the embassies Charge d'Affaires:
"It naturally wants to do a good job - its performance will be carefully scrutinised - and if its comprehensive preparations are anything to go by it should succeed, though its key priorities may have to be revised if knocked off course by internal EU and international events - Eurozone crisis, Arab spring - and perhaps even by its own national elections in October. But it's an opportunity for this sizeable and vibrant nation to showcase its progress and maturity and demonstrate that it is an increasingly influential EU player."
Looking ahead Ambassador to Sudan, Nicholas Kay noted on his latest blog post that "The UK is ready for a new future in Sudan. We have prepared carefully for the coming of the Republic of South Sudan. I have an excellent colleague in Juba, who will become the Ambassador to that new country (read Alastair McPhail's blog). I wish him and his team all the very best. I shall remain as Ambassador to the Republic of Sudan, which will become Africa's third largest country."
British Ambassador to the United States, Nigel Sheinwald posted a blog from Los Angeles were he is preparing for the visit of Their Royal Highnesses the Duke and Duchess of Cambridge. Ambassador Sheinwald spoke about the links the visit will highlight one of which is "the unrivalled business connections between American and British companies":
"…a relationship which supports a million jobs on each side of the Atlantic. An event hosted by UK Trade and Investment will focus on developing relationships between US and UK technology companies, especially in the exciting new media hub in the Tech City region of East London; another hosted by the British Academy for Film and Television Arts will connect emerging British talent with Hollywood's movers and shakers."
Marianne Young, the British High Commissioner Designate to Namibia introduced herself on her maiden blog post. Speaking about her appointment she said "I am absolutely delighted to have been appointed as British High Commissioner to Namibia at such an exciting time. Namibia continues to play a key role in regional affairs. The country is currently chairing the Southern Africa Development Community (SADC), and host to the SADC Tribunal, SADC Parliamentary Forum and Southern African Customs Union (SACU) Secretariat. Namibia remains a committed contributor to international peacekeeping and the UK is helping to provide training assistance to both the Namibian Defence and Police Forces."
Stephen Brown who is a caseworker in the Foreign Office's Child Abduction Section wrote a blog post sharing his experience about working in this area. In this blog post Stephen shared some of his impressions about the job, noting that "a popular misconception is that it is only fathers who abduct children out of the UK. I've quickly learned that is not the case and would encourage fathers to speak to us early on if they have concerns about their child being abducted."
Published 8 July 2011