This week at the Foreign Office
A look at the work of the Foreign Office and its embassies overseas this week.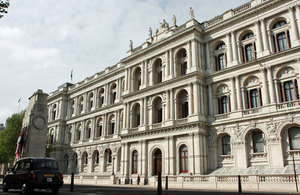 This week the Foreign Secretary met US Secretary of State Hilary Clinton in Washington.
They discussed a wide-range of critical issues, including the eurozone, the deeply concerning situation in Syria, Iran's nuclear programme, Afghanistan, and the Middle East. Speaking after the meeting the Foreign Secretary described the US as the UK's closest and indispensable ally in foreign policy.
As the US announced their military withdrawal from Iraq the Foreign Secretary said that the UK will continue to work with the country, supporting political, social and economic development.
Condemning the attack in Liege on Tuesday the Foreign Secretary said "there can be absolutely no place for appalling acts of violence".
The Foreign Secretary said that the election of Moncef Marzouki as President of Tunisia represents an important step forward for the country. This weekend marks a year since the self-immolation of Mohammed Bouazizi, which triggered this change in Tunisia, and the beginning of the Arab Spring. British Ambassador Christian Turner describes "an unforgettable year" in his blog.
The Prime Minister defended his approach to the European Council which saw the UK opt out of a new EU Treaty. In a statement to Parliament he said "I went to Brussels with one objective: to protect Britain's national interest. And that is what I did."
Minister for the Middle East Alistair Burt visited Bahrain to discuss the recent developments including progress on implementation of the Independent Commission of Inquiry recommendations.
Foreign Office Minister Henry Bellingham welcomed a "renewed commitment to tackling climate change through international law" following the UN Climate Change Conference in Durban on 11 December.
On Thursday the Minister for Europe David Lidington met political opposition figures from Belarus. He reassured them that the UK will continue to pursue all means possible to keep up the pressure for the release and rehabilitation of prisoners and for the promotion of democracy, human rights and the rule of law in Belarus.
50 million digital records from the Holocaust, covering 17.5 million people, will soon be available to the British public for the first time. The International Tracing Service (ITS) archive contains records from concentration, slave labour and displaced persons' camps from the Nazi-era, the Second World War and the ten years that followed.
FCO travel have provided advice on pre-trip preparations for British nationals who are planning to spend the holidays abroad.
Published 16 December 2011