This week at the Foreign Office
A look at stories coming from the Foreign Office and its network of posts this week.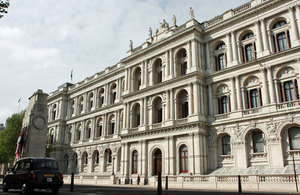 This week saw the second of the Foreign Secretary's speeches on the Government's foreign policy vision. The speech, part of a series of four, was delivered in Japan during the Foreign Secretary's visit to the region.
Mr Hague's speech, 'Britain's prosperity in a Networked World', set out how the Foreign Office will increase its efforts to help British businesses thrive in international markets and in doing so secure the UK's economic recovery.
During the visit the Foreign Secretary answered questions posted by audiences on Twitter during his first visit to the Far East as Foreign Secretary. Questions covered a wide range of issues, including: the global economy, UK policy on Asia, trade, transport and immigration.
The Foreign Office's latest British Behaviour Abroad report, published today, shows that Britons are still getting into preventable problems abroad. A lack of travel insurance and inadequate preparation compound the hazards faced by many Britons travelling overseas. Foreign Office Minister Jeremy Browne has recorded a video message on why 'Prevention is better than cure'.
Minister for the Middle East, Alistair Burt, paid a visit to the Middle East with meetings in Syria and Lebanon. During a tour of southern Lebanon, the Minister had the opportunity to see the demining work of British NGO Mine Action Group (MAG).
At the start of the week, Minister for Africa Henry Bellingham congratulated Ahmed Mohamed Silanyo, of the Kulmiye Party, on his victory in the recent Somaliland Presidential elections, and congratulated all parties involved for their commitment to democracy.
On Tuesday, Minister for Latin America Jeremy Browne welcomed the release of political prisoners in Cuba, a longstanding priority for the UK. The Cuban government committed to release fifty-two political prisoners who have been detained since 2003.
Using climate change science from the UK's Met Office Hadley Centre and other leading impact scientists, Foreign Office Minister Henry Bellingham and Climate Change Minister Greg Barker joined Chief Government Scientist, Professor John Beddington, and Google to launch an interactive climate change map.
Search the news archive
Published 16 July 2010