News story
VIDEO - This is Sellafield
Enterprise director Rebecca Weston represented Sellafield Ltd at the annual Nuclear Decommissioning Authority (NDA) Stakeholder Summit.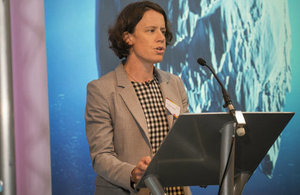 The NDA summit 2018 drew in a national and international audience of leaders from Government, site stakeholder groups, local authorities and the entire NDA estate to hear about the latest issues and progress in the nuclear industry.
As well as premiering a new Sellafield video, Rebecca also delivered a presentation which showed some of the background and 'hidden' work needed to deliver the success of gaining access to the Pile Fuel Cladding Silo.
The Business, Energy & Industrial Strategy (BEIS) Permanent Secretary Alex Chisholm was at the event and said:
In recent years Sellafield Ltd has met significant milestones in retrieving hazardous waste from its legacy ponds and silos. Real progress has been made with reducing delays and cost overruns, which demonstrates the hard work of the management teams and workforce to drive improvements and I have no doubt this trend will continue.

These major successes at Sellafield have been years in the making. It follows on from a significant amount of work to develop and understand the scale and nature of the risks and to devise innovative solutions. I am really pleased to see the National Audit Office reporting that work at Sellafield has taken a real turn for the better.
Published 20 July 2018