World news story
"This is not failure. We will have the Arms Trade Treaty."
UK Statement on the Conference on the Arms Trade Treaty delivered by Ambassador Jo Adamson.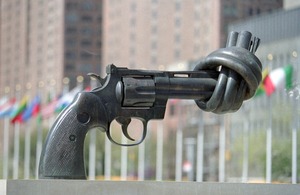 A good strong treaty has been blocked by the DPRK, the Islamic Republic of Iran, and Syria. But most people in most of the world want regulation and those other voices that need to be heard. So we have sent a text for decision by the United Nations General Assembly.
This treaty will be the first international, legally binding agreement on the transfer of small arms and light-weapons, and the seven UN categories of conventional arms.
It will have an explicit requirement for a national control system, with controls to apply to the broadest range of arms.
It will prohibit exports that will be used for genocide, crimes against humanity, or a broad range of war crimes.
It will have a mandatory requirement for arms exports – including ammunition, munitions, and military parts and components – to be assessed on the basis of criteria including peace and security, human rights, international humanitarian law, terrorism, which many had called for, and transnational organised crime.
It will require mandatory refusals for transfers that pose unacceptable risks.
It will have a requirement to take into account in export licensing decisions, the risks of serious acts of gender based violence, violence against women and children and corruption.
It will have a requirement for states to regulate arms brokering.
It will have mandatory record keeping and regular reporting on authorization.
It will have regulation, where feasible, on imports, transit and transhipment.
It will have strong provisions to prevent diversion of weapons to illicit trafficking or use. And those provisions on diversions will have been negotiated, and I use the word negotiated, in a process which you established for us, the states, to take our own responsibility and to produce by consensus within the United Nations, which we cherish go dearly, a consensus outcome. That new article which we saw in the course of this conference was negotiated following many requests from countries who said that the 26th of July text was not strong enough in this area. It was negotiated. It is in the treaty.
It contains provisions to help the treaty keep up to date with perhaps future, new types of weaponry, and to take our treaty, which we will have up to date and to make sure it is future-proofed. This will be a treaty on which we today can build. This is the sense of this room. This is why we are working right now to bring this treaty, which you gave us the opportunity to create, home. You gave us that opportunity. The overwhelming majority took that opportunity and negotiated this treaty.
Mr President,
I pay tribute to you. I cannot hold back my disappointment that we have been unable to take the opportunity to build on negotiations, which from my perspective, were rigorous, organised, transparent, and which involved Member States of the United Nations taking their responsibilities working on texts late into the night and producing, with your help, an excellent text.
Mr President,
This is success deferred. This is not failure. We will have the Arms Trade Treaty. We will go to UNGA soon. I pay huge tribute to you for your fairness, for your rigor, for demanding high standards of us. That is the kind of Arms Trade we want to have. It is the same as the way you have run this conference.
I thank you, Mr President.
Published 29 March 2013