World news story
Thirty Greek students receive the Diana Award for anti-bullying
The students were presented the award at a ceremony at the British Residence.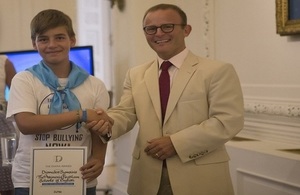 Thirty students from Rethymnon, Crete, members of the Anti-Bullying Volunteer Group of "Asimenia Featham" English Language Centres were presented the International Diana Award, at a ceremony at the British Residence.
The International Diana Award was established in 1999 in Britain. It is a recognition of social action and aims to inspire young people whose actions help to make the world a better place. It was awarded to a Greek team for the first time and was presented at a special event held at the British Residence on Wednesday 31 August by the British Ambassador, John Kittmer. The Mayor of Rethymnon, Mr. George Marinakis, who has been a keen supporter of the students' activities was also present at the award ceremony.
Since 2014 the group has taken forward a campaign to inform and raise awareness in their local community of Rethymnon and their activity continues to this day.
In his address the British Ambassador, John Kittmer said:
These 30 students were able to address the very serious problem of bullying and violence in their local community. It is the first time that this great international distinction goes to a Greek school and I warmly congratulate all the students for their achievements.
Rethymnon Mayor, George Marinakis added:
I am very pleased and proud that our own children from Rethymno have managed to win the Diana Award. It is a commendation that will accompany them throughout their lives as a symbol of their teamwork that shows their love for diversity and the modern values of our culture.
Watch the Anti-Bullying Volunteers Team's video
Published 1 September 2016