World news story
Thirtieth Session of the Human Rights Council, Geneva, 14 September to 2 October 2015
UK Statement delivered under Item 10, Geneva, 1 October 2015.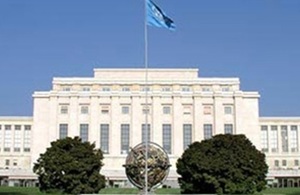 Mr. President,
The UK aligns with the statement made on behalf of the EU and would like to make some additional remarks.
We are deeply concerned by the human rights situation in the Democratic Republic of Congo (DRC). Violations and abuses of human rights remain at an unacceptably high level. We value the work of the UN Joint Human Rights Office (UNJHRO) in the DRC and call on the Government of the DRC to strengthen its collaboration with the Office so that fundamental freedoms are respected. This is particularly important in the run up to elections.
We remain concerned about the fragile security and humanitarian situation in Central African Republic. Free, fair and inclusive elections are crucial for CAR's future stability and progress towards reconciliation. It is key that all Central Africans, including refugees in neighbouring countries, are given the opportunity to participate in the constitutional referendum and presidential elections, to enable the transition towards an elected government that has wide acceptance and represents the interests of all.
The UK continues to support the extension of the mandate of the Special Rapporteur on Cambodia. The UK remains concerned that new legislation in Cambodia concerning NGOs does not adequately safeguard existing freedoms and will negatively impact on civil society. We would like to underline the importance of meaningful consultation on any future draft legislation affecting human rights
We also remain concerned by the human rights situation in Somalia. We commend the efforts of AMISOM and the Somali National Army in freeing much of Somalia from Al Shabaab. We call on AMISOM and the Somali National Army to uphold their zero tolerance policy for human rights abuses. We urge the Federal Government of Somalia to establish key human rights legislation and institutions, and to reach agreement on an inclusive electoral process for 2016.
Thank you.
Published 1 October 2015