World news story
Thirtieth Session of the Human Rights Council, Geneva, 14 September to 2 October 2015
The UK delivers National statement during the Interactive Dialogue on the High Commissioner's Report on Libya, Geneva, 29 September 2015.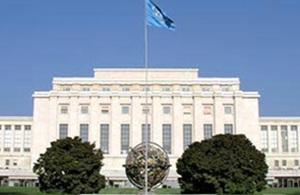 Thank you Mr President,
The UK thanks the Special Representative for his and UNSMIL's tireless efforts to resolve the political and security crisis in Libya.
The UK remains deeply concerned at the suffering and loss of life caused by more than one year of political crisis and conflict in Libya. We condemn the continued reckless and indiscriminate attacks by armed groups on all sides. All sides must immediately stop arbitrary detentions, abductions, torture, and extra-judicial executions. Actions which violate or abuse the human rights of individuals, and threaten or damage communities, risk fuelling alienation, resentment, and furthering the cause of extremists.
The UK is also gravely concerned that while the political crisis and conflict has continued, the threat from terrorism has grown. We deplore the savage attacks by ISIL-affiliated terrorists against Libyan citizens in Sirte and elsewhere. The instability in Libya has also allowed criminal gangs to profit from the migration crisis in the Mediterranean.
That is why the UK fully supports Special Representative Leon's final text from the Libyan Political dialogue, announced on 21 September. It is crucial that all parties come together quickly to approve this final text, working with their associated forces to ensure the peaceful establishment of an inclusive Government of National Accord. The parties have a responsibility to the Libyan people to secure this critical opportunity for peace. The human rights situation in Libya can only be improved under the stability of a united and representative Government.
We continue to demand that those responsible for human rights violations and abuses be brought to account, regardless of which side they take in the conflict. In this regard, the UK would like to ask what contribution the OHCHR investigation that is deploying now will make towards accountability?
Published 29 September 2015