World news story
Thirtieth Session of the Human Rights Council, Geneva, 14 September to 2 October 2015
UK Statement delivered under Item 10 during the Interactive Dialogue on the Democratic Republic of Congo (DRC), Geneva, 29 September 2015.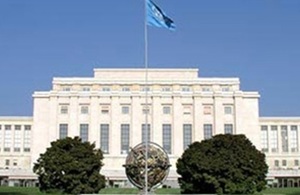 Thank you Mr, President.
The UK would like to thank the High Commissioner for Human Rights for his written report. We value the UN Joint Human Rights Office (UNJHRO)'s reporting and regard the office as an important element of the UN's work in the Democratic Republic of Congo (DRC). We call on the Government of the DRC to reinforce its commitment to working with the UNJHRO to ensure better protection of human rights throughout the DRC.
The UK remains deeply concerned by the human rights situation in the DRC. Violations and abuses of human rights remain at an unacceptably high level, particularly in the eastern part of the country.
The Congolese authorities' response to the civil unrest in January and subsequent peaceful political activity is of particular concern. The right to peaceful demonstration and assembly must be upheld at all times. The detention of protestors and activists for long periods without charge or due legal assistance is unacceptable. We urge the Government of the DRC to ensure that fundamental freedoms are respected ahead of the forthcoming elections. We hope the elections will be conducted in a peaceful, transparent, free and fair manner.
Thank you, Mr President.
Published 29 September 2015