World news story
Third climate change breakfast of 2014 in Chile
Deputy Environment Minister Marcelo Mena presented the latest developments and next steps regarding climate policy for Chile.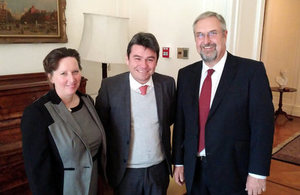 The third "Climate Change Breakfast" of 2014 took place on 23 September at the British Residence in Santiago. The series of breakfasts, organised by the Climate Change Committee of the British Chilean Chamber of Commerce and the Embassy, facilitate an exchange of ideas between public and private sector leaders on the challenges and opportunities that climate change presents to businesses.
The guest speaker for this occasion was Deputy Environment Minister Marcelo Mena, who presented the latest developments and next steps regarding climate policy. The breakfast coincided with the Climate Summit organised by the UN Secretary-General in New York that was attended by major world leaders, including President Michelle Bachelet and Prime Minister David Cameron.
At the event, Ambassador Fiona Clouder said:
This is a very timely opportunity to have our third climate change breakfast of 2014: Today in New York City many world leaders, including President Bachelet and Prime Minister David Cameron, are attending the UN General Secretary's Climate Summit. We hope this summit will contribute to strengthen the political momentum needed to secure an ambitious global climate agreement.

I am glad to hear that President Bachelet is committed to tackling climate change. I know that the Chilean government is actively working to compose and implement its climate policy both before and after the key date of 2020.

We are pleased about the positive collaboration established between UK and Chile in recent years, particularly with the Ministry of Environment. We hope this joint work continues and develops; we look forward to having a successful Conference of the Parties (COP) in Lima this year and Paris in 2015. Chile is an important partner in our efforts to tackle climate change.

However, as I have mentioned in previous opportunities, measures to tackling climate change should not only be the responsibility of the government. It is important to involve civil society and the private sector in the effort. Companies, like the government, can play a key role in promoting a change: leading by example.

Do not forget that the transition towards a green economy offers opportunities for businesses. There is no such thing as a trade off between being green and economic growth, no compromise needs to be made. This is one of the key conclusions from the New Climate Economy Commission, whose final report was launched last week.

I would like to thank Mr. Marcelo Mena, Deputy Minister for Environment for being here today. Mr. Mena, welcome to this Climate Change Breakfast.
Further information
For more information about this event, contact Felipe Osses, Climate Change and Green Growth Officer, British Embassy, Santiago.
For more information about the activities of the British Embassy in Santiago, follow us on:
Published 29 September 2014