News story
Theresa Villiers visit to East Belfast
NI Secretary of State meets with Charter NI and the Pitt Park Women's Group who tell her about their excellent work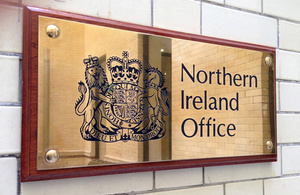 Earlier today, the Secretary of State for NI, Theresa Villiers MP visited East Belfast where she met representatives of Charter NI and the Pitt Park Women's Group.
Speaking after her visit the Secretary of State said:
I welcomed the opportunity to meet representatives of Charter NI and the Pitt Park Women's Group this afternoon and to hear first hand about the excellent work that is going on to improve the lives and prospects of those living in the local community in East Belfast.
It is heartening to hear about the tremendous work that goes on between groups from both sides of the community to improve community relations and decrease tensions in the area.
Following her meetings Ms Villiers took the opportunity for a short walk around the Pitt Park and lower Newtownards Road area where she met local residents and heard about the issues facing those living in this interface area. She commented:
All too often we hear the negative stories about areas such as East Belfast. It is important that we recognise the positive actions being taken to help build relationships between neighbours and reduce tension, especially in interface areas.
There are many people taking brave steps and personal risks to ensure a better future for people from all sides of the community and I would encourage others to do likewise.
Addressing ongoing community segregation in Northern Ireland is a social, political and security priority if Northern Ireland is going to realise the full benefits of the peace process.
Published 13 February 2014