Theresa May visits the OPTs
UK Home Secretary visits the Palestinian Territories, meets Prime Minister Hamdallah and reiterates the UK's strong support to the PA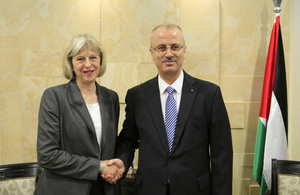 UK Secretary of State for the Home Office, Theresa May MP, visited the Occupied Palestinian Territories on 1 July. She came to see and understand first-hand the situation on the ground, and to strengthen bilateral ties between the UK and the Palestinian Authority.
In the West Bank, Home Secretary May met Palestinian Prime Minister Dr Rami Al Hamdallah in Ramallah. They discussed the latest developments in the region. Mrs May condemned the killing of the three Israeli youths and expressed concern at reports of increased violence in East Jerusalem and the West Bank including the deaths of Palestinians.
To demonstrate Britain's strong support for Palestinian institutions, the Home Secretary toured the Police Training College in Jericho where up to 2,500 Palestinian policemen are trained every year. The Home Secretary also paid a visit to the Haram Al Sharif in Jerusalem's OId City.
Home Secretary Theresa May said:
I was pleased to meet Prime Minister Hamdallah, and to discuss the current situation with him following the awful killing of the three Israeli boys. I made clear to him that the Palestinian Authority has Britain's strong support. I commend the Palestinian leadership's commitment to achieving peace with Israel. The British government will continue to support the building of strong and accountable Palestinian institutions, including the security forces, as an essential step on the path to statehood.
Published 3 July 2014