News story
There's a Business in You
Business in You', a major new campaign aimed at inspiring people to start or grow their own businesses and helping small businesses and entrepreneurs…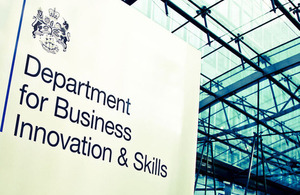 Business in You', a major new campaign aimed at inspiring people to start or grow their own businesses and helping small businesses and entrepreneurs understand the array of information and help available from the Government and private sector has been launched by the Prime Minister today.
The Government and private sector campaign is based on the concept that there is "a business in everyone" and that all businesses can realise their ambitions. Partners in the campaign include StartUp Britain, the Confederation of British Industry, the British Chamber of Commerce, the Institute of Directors, the Federation of Small Businesses, the Forum of Private Business, the major banks (via the British Bankers' Association and the Better Business Finance Campaign), the Engineering Employers Federation, the Social Enterprise Coalition, the Institute of Credit Management, Microsoft, Mitie, Ernst and Young and Grant Thornton.
In further action to help small businesses get off the ground, the Prime Minister has also announced plans to make empty and under-used Government offices available to small businesses so that they can start up and grow.
There is a wealth of information and help available to SMEs - the Government and the private sector have come together to make sure that small firms and budding entrepreneurs know what is available and to expand the offer, with some of the campaign partners providing free services including workshops, web-based seminars and video tutorials on issues like finance as well as providing mentoring and access to face to face consultancy sessions.
The campaign, running nationwide throughout 2012, showcases real life small business owners who come from a wide range of backgrounds, and each has an inspiring story of how they turned their passion into their livelihood through hard work and support. Launching today, it will roll out through radio adverts, outdoor posters across the country and national and trade press.
The campaign features a new 'Business in you' web portal which will bring together the resources available to business owners and entrepreneurs to help them start or grow their business as well as inspire them with stories of how other people have achieved success.
Each month, the campaign will focus on a different theme relating to start ups and growth including exporting and employment and will highlight the wide range of Government support available; from online advice on Businesslink.gov.uk through to specialist schemes such as the Enterprise Finance Guarantee, a loan guarantee scheme that encourages banks to lend to viable SMEs which lack the collateral or credit history to secure a normal bank loan.
**Prime Minister David Cameron said:
**
"Small businesses and entrepreneurs are the lifeblood of the British economy and I am determined that we, working with the private sector, do everything we can to help them to start up and to grow in 2012. I want to encourage people to go for it and make this the year of enterprise - whether that is fulfilling their dream of starting a new business or taking the leap to grow their business, to employ more staff, or to start exporting."
**Business and Enterprise Minister Mark Prisk said:
**
"There are some great inspirational success stories across the UK of businesses that have started up and grown into successful local, national and international companies. We want people to follow their example, realise their own business potential and help make 2012 the year of enterprise.
"I know that starting and growing your own business can be a daunting task, but there is help available to potential entrepreneurs who have the desire to take their ideas forward. The Government is providing more opportunities for people of all ages and backgrounds to either start or grow their business, which in turn will help boost the UK economy."
**Michael Hayman, Co-Founder of StartUp Britain, said:
**
"Is there a business inside you? We believe the answer is yes and we want to inspire those with a dream to make it a reality by starting their own business. All around the country are people proving by their own actions that you can make it in Britain, be your own boss and create the jobs that can help transform communities. This campaign champions the courage and determination of Britain's entrepreneurs, the people that change things, the people that have a go."
To help small businesses get off the ground, the Government is also announcing plans to make empty and under-used Government office space available to small businesses so that they can start up and grow. Many entrepreneurs struggle to find a suitably flexible and affordable space to start their business, so this practical measure taken by the Government will support the next generation of British businesses.
There are currently over 300 buildings in the Central Government estate with space in England and the Government, working in co-operation with landlords, will offer as much as this space as possible to small businesses, giving them space to grow at a low cost. The Government will invite incubation organisations, who help new and existing small businesses prosper, to manage and allocate these spaces. These organisations will also provide the businesses with access to support and business advice.
As part of its overall efficiency programme led by the Cabinet Office, the coalition Government has already saved £100 million this financial year by exiting leases, and its top priority for dealing with under-used buildings remains to exit properties and make further savings. This will be initially for one year and will involve flexible, short-term arrangements that will make productive use of the assets while they are otherwise sitting empty.
Business and Enterprise Minister Mark Prisk will work with the Government Property Unit, the BusinessLink website, business representative organisations and StartUp Britain to help would-be businesses who might benefit from this scheme to identify and investigate Government space that is available in their area.
Notes to Editors
The Government has extended the Enterprise Finance Guarantee (EFG) scheme to make £2 billion of loan guarantees available to viable small firms through to 2014. A number of new lenders, including Metro Bank, will also be accredited to offer EFG lending. This gives SMEs that lack the collateral or credit history to secure a normal bank loan to gain the vital funding they need.

We have also launched a mentoring portal: $2 (launched July 2011 and developed in conjunction with the British Bankers Association) to provide a single point of access for those seeking mentoring and those seeking to be mentors across the UK. It is already helping to bring together existing networks of mentors in the voluntary and private sectors. We are encouraging more businesses to volunteer to mentor other businesses and our aim is to develop a network of over 40,000 business mentors
3.The Business Link website $2 has been updated and provides easy-to-use information to help start up, improve or grow a business.
4.Last March the Government lent its support to StartUp Britain, which is a private sector driven campaign to encourage and celebrate entrepreneurship. It remains a source of energy in the UK's start up scene, and we are working very closely with StartUp Britain as a partner on this campaign. The 'Business In You' campaign builds on Start up Britain's work to include the full and increasing range of support available to small businesses, provided by both the private sector and government.
5.Videos showing interviews with people who have been inspired to set up businesses are available to embed in your website. You can find them on You tube:
Wendy Tan-White , Moonfruit youtu.be/oZJ-AnXnEP4
Alison Grieves , Safetray youtu.be/Sjjer52JrTQ
Alistair Mitchell , Huddle youtu.be/jUFoOAUl7Bw
Carol Powell , Rejigged youtu.be/9qdWG_h8fRQ
Jamal Edwards , SBTV youtu.be/uO3nqfVsH0U
James Merritt - Tom Marchant , Black Tomato youtu.be/4NJAOtT3DPo
Jennifer Okpapi , Akhaya cookery school youtu.be/8A2gKwxzoi8
Paul Lindley , Ella's Kitchen youtu.be/cGMHazQlKyc
Richard Moross , Moo.com youtu.be/H1GoRkzD9qI
Montage of case studies www.youtube.com/watch?v=MBkzvyOS_ig
The banks will be making some major improvements to their better business finance website (www.betterbusinessfinance.co.uk)
Specific help for start-ups: In February 2012, the BBF will launch a new section on the website which will provide information that will specifically help start-ups considering looking for finance. This will include principles that the banks have committed to when working with start ups; a summary of each banks start-up offering; and video materials on the top four questions most likely to be asked by a lender when applying for start-up finance. The aim is to help start ups make a better pitch to their banks and understand what banks are looking for in a business proposition.

Business Account Finder: In February 2012, the BBF will launch a comparison tool which allows businesses to compare and contrast the business account offerings from the major banks.

New 'Finding Finance' tool: March 2012 sees the launch of a Finding Finance tool - a website which will help businesses find the finance they need using search criteria such as region / business life stage (start up; established; growing) / finance required / business sector. BBF has worked with business organisations and broad financial groups (British Business Angels, CDFA, BVCA, FLA, ICAEW, and others) to ensure this tool identifies the full range of finance options available to businesses (across the various financial providers).

Talking Point: A new section on the BBF website will host experts' comments, experiences and case studies on a range of topics pertinent to businesses at all life-stages

Alternative sources of finance: Building on the launch by the banks of the £2.5bn Business Growth Fund in 2011, this year will see the BBA and BBF developing greater links with a broader range of finance groups that can help provide businesses with further funding opportunities. This includes closer collaboration with the British Business Angels and the Community Development Finance Association, through the development of a national referral programme to the CDFA and CDFIs.

Outreach programme: The BBA will also be offering MP constituency surgeries on mentoring, regional 'access to finance' round tables with businesses and business groups, and continued provision of support to UK Export Finance and UKTI. A full programme of activity will soon be available on www.betterbusinessfinance.co.uk/events
Ernst & Young launching 'Accelerate' programme for young business leaders and entrepreneurs on 26th Jan. Accelerate is an ongoing programme of learning for young business leaders and social entrepreneurs. It will initially run over a five month period, starting in February 2012, and will comprise 14 workshops aimed at different levels of business experience; from start ups through to established enterprises. Places on Accelerate will be offered via a number of the organisations E&Y have existing relationships with and which support either young business leaders or social entrepreneurs. They include UnLtd, The Prince's Trust, Bright Ideas Trust, Social Business Trust, Teach First and the top 10 winners of Striding Out's 2011 Future 100 awards.

Microsoft are initially providing content in the form of pre-recorded webinars or videos on topics relevant to small and medium sized business such as marketing, advertising or PR . Microsoft also providing case studies on how technology has helped some businesses transform their processes and helped them to process payments faster or target their services better.

MITIE will make a commitment to provide a two hour free consultancy session with people starting business in the services sector.

Social Enterprise Coalition will offer free memberships of this key business body for every social enterprise start up in next 12 months. To be advertised through Start Up Britain.

The new portal can be viewed by visiting, http://businessinyou.bis.gov.uk/.

BIS's online newsroom contains the latest press notices, speeches, as well as video and images for download. It also features an up to date list of BIS press office contacts. See [http://www.bis.gov.uk/newsroom](http://www.bis.gov.uk/newsroom) for more information.
Contact Information
Name BIS Press Office Job Title
Division COI Phone
Fax
Mobile
Email NDS.BIS@coi.gsi.gov.uk
Name Dan Palmer Job Title
Division Department for Business, Innovation and Skills Phone 020 7215 5303 Fax
Mobile
Published 23 January 2012