World news story
The World Trade Organisation's 9th Ministerial Conference will take place in Bali, Indonesia, from 3 to 6 December 2013
From:

Part of:

Published:

25 November 2013
This was published under the 2010 to 2015 Conservative and Liberal Democrat coalition government
Facilitating World Trade: Dispelling the myths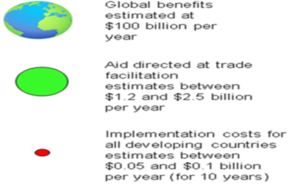 The World Trade Organisation's (WTO) 9th Ministerial Conference to be held between 3-6 December in Bali to agree a deal on three main strands: Trade Facilitation (TF), and elements on agriculture and development. The UK strongly supports a deal on Trade Facilitation at the upcoming Bali Conference. An agreement at Bali will help unlock further progress in the Doha Development Round at the WTO.
Trade Facilitation will significantly ease the costs of trade on a global scale by cutting onerous red tape at borders through a range of simple and high-impact measures. Examples of this are publishing fees and charges to increase certainty and introducing a fast track procedure for perishable goods to save food rotting at the borders.
The benefits of Trade Facilitation:
A Trade Facilitation deal will boost the global economy by $100 billion a year. All WTO members would benefit from a Trade Facilitation deal in the long term; particularly developing countries and emerging economies. 10% of such gains, or $10 billion per year, would go to Sub-Saharan Africa.

A Trade Facilitation deal will streamline bureaucracy by getting products moving more efficiently around the globe. Currently, up to 7% of the value of global trade is lost in inefficiencies at the border.

Small businesses are currently disproportionally affected by red tape. An agreement will allow more small businesses to export and benefit more from this.

Furthermore, most customs points are at land borders: trade facilitation will boost trade between adjacent countries and therefore support regional trading areas. The East African Community and South-South trade more generally will benefit from this support. Efficient borders encourage inward investment. The UK has well over $45 billion invested in African countries.

There is plenty of technical assistance and capacity building available for Developing and Least Developed countries. Implementation will require an initial investment, but transition periods (self-determined by every developing country) will spread the cost.

Trade Facilitation does not involve any market access issues which can be politically sensitive; it just removes inefficiency and waste.

The estimated implementing costs for all developing countries are between $0.05 and $0.1 billion per year for 10 years. At present, annual Aid for Trade figures are 10 to 20 times higher (estimated to be between $1.2 to $2.5 billion per year).

Key beneficiaries of an agreement in Trade Facilitation will be landlocked Developing Countries as imports and exports have to cross more borders. Simultaneously, countries' customs revenues will be enhanced by increased efficiency in customs procedures and subsequent increased trade flows.
World Trade Organisation, Ministerial Conferences
http://mc9.wto.org/
Document information
Published: 25 November 2013