News story
The world's most advanced civil aircraft, helicopters, and an airship showcase the British aerospace industry in the middle of Westminster
The exhibition at the Department for Business, Innovation and Skills, which coincides with the opening by the Prime Minister of a state-of-the…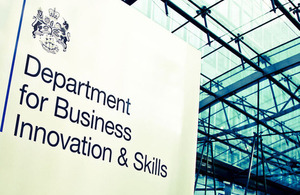 The exhibition at the Department for Business, Innovation and Skills, which coincides with the opening by the Prime Minister of a state-of-the art £400m factory for Airbus wings in North Wales, provides a showcase for the UK designers and manufacturers who help make some of the world's most sophisticated aircraft. It highlights the expertise Britain has in this sector, and the £23bn contribution that aerospace makes to the economy per year.
The exhibition was visited today by Business Minister Mark Prisk following a meeting of the Aerospace Growth Partnership, which brings business leaders and government together to take action to address barriers to growth, boost exports and grow the number of highly skilled aerospace jobs available in the UK.
Business Minister Mark Prisk said:
"Britain's aerospace industry is one of our biggest manufacturing success stories. We are the largest aerospace sector in Europe and second only to the United States globally. The UK aerospace industry creates £23bn of business a year, of which 70 per cent is exported. That is why I want to make sure we are doing everything we can to support the industry and showcase its successes with exhibitions like this one."
Graham Chisnall, MD AeroSpace and Operations at ADS said:
"Aerospace is one of the real avenues of growth for the UK, generating £23bn in 2011 and expanding at the rate of 5 per cent per year. Aerospace is very much a jewel in the UK's rich crown of advanced manufacturing, being number one in Europe and number two globally. There are challenges ahead but these are by no means insurmountable when there is an industry and Government co-operative approach as demonstrated by the Aerospace Growth Partnership, and many opportunities to grow market share along the way.
"Today's aircraft produces 70 per cent less CO2 than their equivalent 50 years ago, while noise is down by 75 per cent compared to 30 years ago. With current and future aircraft, like the Airbus A380, Bombardier's C-Series and Boeing's 787 which are as fuel efficient if not better than today's hybrid car per passenger kilometre, aerospace is demonstrating constant environmentally sustainable improvement. Our industry can rightly claim that it is helping to bolster the economy, while also aiding Government to meet their environmental commitments."
Exhibits on display at the Department cover:
**Airbus: **The A350 XWB (extra wide body) - Airbus's newest aircraft and the first to be made with 50 per cent composite materials; the A380 the largest and most advanced aircraft in operation today and the A400M military transporter on order for the UK Armed Forces. The UK designs and makes the wings for all these aircraft - and is Airbus's Centre of Excellence for Wings and Pylon. Also on display, is a model of Airbus's future concept plane.
Rolls-Royce: **The **Trent** 800**, the power plant for the Boeing 777, and one of the Trent family of engines, designed and built at the company's Centre of Excellence in Derby, and powering Airbus and Boeing aircraft. Also on display is a wide-chord fan blade, incorporating some of the company's most advanced technology.
**Bombardier Aerospace: **The new C Series commercial aircraft. The 100-130 seat airliner has advanced composite wings designed and manufactured at the company's facility in Belfast.
AgustaWestland: A full size mock-up of the new AW169 civilian helicopter (first week of exhibition only) - on which work at Yeovil will diversify the company's business into the civil rotorcraft market. Also on display is a model of the AW139 helicopter, again involving work at Yeovil. **
---
**BAE Systems: **The Taranis unmanned combat aircraft system, a demonstrator which will enable the UK to develop new technologies and systems for future platforms. Also on display is a model of the Eurofighter Typhoon, Europe's newest frontline, multi-mission fighter aircraft.
**Messier-Dowty: **Display of the landing-gear of a Eurofighter Typhoon aircraft which is produced at Messier-Dowty's Gloucester site.
---
Hybrid Air Vehicles: **Concept lighter-than-air (LTA) vehicle which the company is seeking to develop as a heavy-lift cargo carrier, based on their world-leading expertise in LTA vehicle design. **
**Martin Baker: **Displaying the US16LA ejection seat used for the Texan II trainer aircraft.
**Goodrich: **A multimedia display shows the diverse range of products which the company offers in its Engine Control and Electrical Power Systems, Actuation Systems, ISR Systems, Carbon Fibre, and Maintenance Repair & Overhaul businesses.
**Raytheon: **Display of a silicon carbide wafer which is produced at one Raytheon's eight UK sites and demonstrates the high-technology capabilities which the company brings to customers in the aerospace and defence industries.
**
Spirit AeroSystems: **displaying a composite spar section made with advanced fibre placement technology (AFP
and a stringer run-out which would be integrated into a wing to provide local strengthening.
**GKN: **displaying a carbon fibre aircraft window frame, produced as part of a technology demonstrator programme to study how to produce a complete component in one run, rather than requiring machining to finish it off.
Britain's aerospace industry has a 17 per cent global market share and employs over 100,000 people in the UK, including 2,500 apprentices. The UK has world-leading excellence in wings, engines, landing gear, and advanced systems that keep aircraft flying safely and efficiently, and is one of only five nations in the world with the range of capabilities needed to design and build advanced helicopters
The exhibition is one of a rolling programme of themed displays demonstrating excellence in British design, engineering and manufacturing.** **
The Government is committed to promoting UK manufacturing as it is critical to economic growth with responsibility for 53 per cent of UK exports and 2.8 million jobs.
Notes to editors:
---
Images of Mark Prisk's tour of the exhibition, including the full size model of the AW169 are available on the BIS flickr page: http://www.flickr.com/photos/bisgovuk/sets/72157627790536511/
BIS's online newsroom contains the latest press notices, speeches, as well as video and images for download. It also features an up to date list of BIS press office contacts. See http://www.bis.gov.uk/newsroom for more information.
Notes to Editors
Contact Information
Name BIS Press Office Job Title
Division COI Phone
Fax
Mobile
Email NDS.BIS@coi.gsi.gov.uk
Name Nick Evans Job Title
Division Department for Business, Innovation and Skills Phone 020 7215 3496 Fax
Mobile
Published 25 October 2011