The way ahead for UK - Germany business relations
Minister for Europe highlights the role of UK – German trade relations in building prosperity and growth in Europe.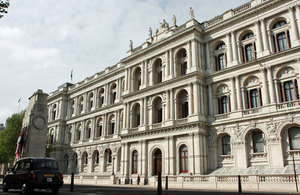 Speaking at an event hosted by German Industry UK on 24 March, Minister for Europe David Lidington emphasised the importance of trade relations between the UK and Germany, and the need to work together to drive enterprise and growth in the European Union.
He outlined the strength of UK - Germany trade relations: over 1000 British companies do business in Germany, with UK exports to Germany worth over €30billion a year. The UK exports more goods and services to North Rhine Westphalia alone than to India and China put together. Over 2,500 German companies have invested in the UK, totalling almost €100billion, sustaining 400,000 British jobs. German financial service providers such as Deutsche Bank, Munich Re and Allianz have strong connections with the City of London. These relationships also help to underpin manufacturing in Germany.
The Minister argued that the UK and Germany should continue to push for further action on the Single Market to open up and connect European and global markets; smarter regulation to lighten the burden on business and break down the barriers for commerce; and a new drive to support business and unleash enterprise within the EU.
David Lidington said:
"The UK and Germany already do substantial business together. We want to do more. The trade and investment we enjoy with European partners, above all Germany, and the access we have to the EU's open markets, is vital for British prosperity."
Published 25 March 2011