World news story
Sudanese government's delegation visits UK
The UK welcomed Ambassador Abd Elghani Elnaim, Undersecretary from the Ministry of Foreign Affairs of the Republic of Sudan, to London for the second round of talks in the Sudan – UK Strategic Dialogue.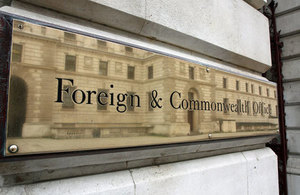 Ambassador Elnaim was welcomed on arrival by the British Permanent Undersecretary of State Sir Simon Macdonald. At the end of the two days the Undersecretary called on the Minister for Africa, Tobias Ellwood.
Following their meeting Minister Ellwood said:
I was pleased to welcome Ambassador Elnaim to London. We had a useful discussion about the UK and Sudan's relationship and I welcomed the Sudan Government's commitment to broadening and deepening our engagement. The UK remains keen to see this relationship develop and to see the UK becoming a leading partner in the development of a peaceful and prosperous Sudan.

To this end, I urged the Government of Sudan to seize the opportunity offered by the African Union Road Map to agree a cessation of hostilities in Darfur and the Two Areas, and for all sides to enter an inclusive political dialogue about the future of the country. I expressed my deep concern about the situation in Jebel Marra and called on the Sudanese Government to allow the UN and others full access to these areas to monitor events and look into allegations such as chemical weapons use.
Published 16 October 2016