News story
The value of arts and humanities
David Willetts discusses the significance of the arts, humanities and social sciences and announces the largest ever study of babies and young children in the UK.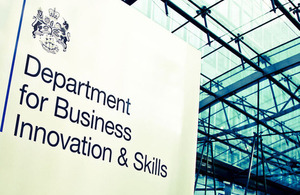 Arts, humanities and social sciences
Mr Willetts launched a strong defence of the arts, humanities and social sciences today in a speech given at the British Academy. He was at the British Academy to formally open their refurbished premises, previously William Gladstone's London home. The Department supported this refurbishment helping to preserve the legacy of one of Britain's great leaders and intellectuals.
Largest ever UK-wide study of babies and young children announced
David Willetts also confirmed that a new £33.5 million project will follow 90,000 British children from birth to tell us more about the factors affecting the health and happiness of society.
The study will reveal more than ever before about the complex interplay between social, economic, biological, environmental and health related experiences and conditions, and how they relate to problems later in life.
"Birth cohort studies provide a unique insight into all the factors affecting people's lives and are central to our understanding of child development. They produce powerful evidence that informs Government policy on a wide range of issues, including social mobility, inequality, education and public health.
"This is turn has positive economic impacts through changes in the delivery of public services, earlier diagnosis of diseases and improvements in quality of life.
"The 2012 study is the largest yet. This research will help us understand more about the needs of individuals than ever before, and ultimately strengthen the fabric of our society."
Previous studies have provided groundbreaking research on the dangers of excessive drinking amongst young people, the consequences of teenage births for parents and their children and the role that child growth and development plays in cardiovascular disease and other health disorders.
The Birth Cohort Facility Project will create a UK centre of excellence, facilitating comparative analyses of data across previous studies, and helping illuminate how health and wellbeing have changed over time in line with society and lifestyles.
Links
Published 1 March 2011