World news story
The unlucky thirteen revealed as Crimestoppers launch Operation Captura campaign seeking criminals believed to be hiding in Spain
Crimestoppers, the National Crime Agency (NCA) and the Spanish Ministry of Interior are once again on the hunt for Britain's most wanted, with 13 new faces released to the public, thought to be evading capture in Spain.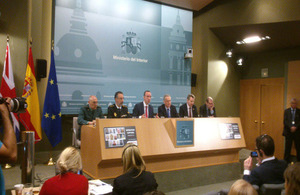 A new appeal is being launched to hunt out the 'unlucky thirteen' wanted criminals as part of the latest Operation Captura appeal, all of which who are believed to be hiding in one of the most popular countries for British ex-pats.
The suspects are part of the eighth Captura appeal since its launch in 2006, and are wanted for crimes including attempted murder, sexual offences against a child and drug dealing.
The successful multi-agency campaign identifies serious criminals on the run wanted by UK law enforcement agencies for crimes committed in the UK. Since Operation Captura launched in October 2006, 53 out of 63 criminals have been arrested, with many now behind bars.
Crimestoppers and the NCA work closely with the British Embassy in Madrid and with British and Spanish law enforcement agencies. The campaign highlights appeals for information on criminals who have European Arrest Warrants (EAWs) issued against them. Information given to Crimestoppers can help locate these criminals so that arrests can be carried out by the Spanish police.
Lord Ashcroft, KCMG PC, Founder and Chair of Crimestoppers, said:
The fact we are able to once again launch Operation Captura is an indication of how successful the last seven years have been since its inception.
However despite our success so far, there are still a number of dangerous criminals who see Spain as a safe haven to hide from their past, but with the support of the Spanish and UK public, we can hunt them out and bring them to justice.
British Ambassador, Simon Manley CMG, said:
We face threats from drug traffickers and distributors; people smugglers and human traffickers; fraudsters and financial criminals; and the emerging threat posed by cyber criminals.
The cooperation that Spain and the UK enjoy on law enforcement is a vital part of that strong bilateral relationship, contributing to the security – and the prosperity - of both our countries.
Hank Cole, Head of International Operations for the National Crime Agency, said:
The NCA and its partners have the capability to pursue fugitives relentlessly. Spain is not a safe haven. Fifty three fugitives have been caught since Captura was launched, and many more linked to other operations.
The exceptional level of collaboration and intelligence sharing with the Spanish authorities has been vital to many of these arrests. The most important thing though is the power of this campaign to harness the eyes and ears of the public, both in the UK and here.
For those people calling from Spain there is a special freephone Spanish 900 555 111 telephone number which will be answered in the UK by Crimestoppers' call agents and a translation service is available upon request. People can also pass on information anonymously via the Crimestoppers number 0800 555 111 or online.
Published 14 November 2013