The UK's priorities for the World Bank
A new report released today outlines how we will work with the organisation over the next year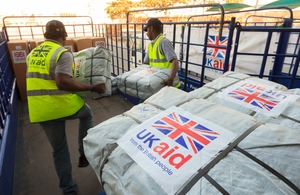 Today the UK sets out its priorities for the World Bank - an international development organisation which Britain provides funding to.
A new report released today - titled 'UK Engagement with the World Bank Group 2011/12' - outlines how we will work with the organisation over the next year to ensure that it makes the most effective use of the UK's support.
The report details the UK's priorities for the Bank, including:
a greater focus on achieving results and efficiency
improved performance in fragile states
progress on climate change
increased emphasis on the part of the World Bank that lends directly to the private sector (the International Finance Corporation)
greater impact on off-track Millennium Development Goals, such as maternal health and infant mortality, with a particular focus on girls and women.
The International Development Association (IDA) - the part of the World Bank which focuses on the poorest countries in the world - was assessed by the UK's Multilateral Aid Review to be one of the most effective international institutions.
Britain's support to IDA will, among other things, fund programmes to immunise children, provide clean water and sanitation, deliver basic health services, recruit and train teachers and boost trade by improving infrastructure across the developing world.
Although the MAR assessed IDA to be performing strongly, there is room for improvement. The UK will work with Bank staff, and donor and client countries to implement keys reforms - in particular to the Bank's lending instruments and policies - to make it a more effective development partner. This year the Annual Meetings at the World Bank are focused on Girls and Women. We will be working with the Bank to identify concrete areas where it can have a greater impact on poor women's and girls' lives around the world.
Achieving the objectives set out in this report will make the Bank more effective in reducing global poverty. The UK will review progress against these objectives and report back in a year's time.
Published 12 August 2011