World news story
The UK's Chief of the General Staff visits Pakistan
The Chief of the General Staff, the Head of the British Army, General Sir Nicholas Carter, visited Pakistan last week to reinforce the close military relationship between the UK and Pakistan.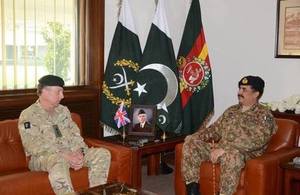 General Carter and his wife Lady Carter were the personnel guests of General Raheel Sharif, the Chief of Army Staff, Pakistan. This is the fourth time General Raheel and General Carter have met in the last two years. They discussed UK-Pakistan military cooperation, the recent action taken by Pakistan's military to bring security to Pakistan, and regional security.
General Carter also visited the Army Museum in Rawalpindi and presented the First World War Centenary Fund Victoria Cross Plaque, a gift from the British people, which names the First World War Victoria Cross winners from what is now Pakistan. Accompanied by General Raheel Sharif, General Sir Nick also laid a wreath at Yadgar-e-Shuhada (the Martyr's Monument) in front of a guard of honour. General Raheel Sharif hosted a dinner at GHQ for General and Lady Carter, accompanied by GHQ's senior generals and their wives, and on Wednesday the generals and their wives had a private lunch together.
Accompanied by Thomas Drew, the British High Commissioner, and Brigadier Murray Whiteside, the British Defence Adviser, General Carter also met with the Minister of Defence, Mr Khawaja Asif, Secretary of Defence Lt Gen (R) Alam Khattak; the Chairman of the Joint Chief of Staff Committee, General Rashad Mahood; and the National Security Adviser, Lt Gen (R) Naseer Khan Janjua.
General Carter also addressed the National Security and War Course, Pakistan's senior military course at the National Defence University in Islamabad. He gave them a British view on the strategic context, the character of conflict and the implications for the British Army.
General Carter, at the GHQ dinner, spoke of his deep respect for the Pakistan Army's achievements in combating terrorism and paid tribute to the soldiers and officers who have lost their lives. The British and Pakistan Armies had strong historical ties and General Carter looked forward to further developing the cooperation between the Armies during his time as head of the British Army.
Published 22 April 2016