"The UK will provide an additional £10 million to help the new government of Somalia"
Intervention by the UK Foreign Secretary, William Hague at the Secretary-General Mini Summit on Somalia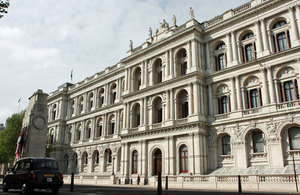 Thank you very much Secretary General, shortening my remarks accordingly. I begin by congratulating the Somali people on the historic moment and the end of transition in Somalia. Their determination and courage to recover from 21 years of conflict is an inspiration to us all.
It's because we in the UK share so many ties with Somalia and the Somali people that we hosted the London Conference, which agreed earlier this year that the transition had to end and that the international community would do more to address security issues in the region.
When I visited Mogadishu earlier this year, I saw for myself the determination and courage of Somali people. The political progress that has been made in recent weeks marks a new chapter in their history. The election of President Hassan Sheikh Mohamud was the most representative process in decades, and a genuinely Somali-led process. And I pay tribute to all involved, internationally and within Somalia who engaged constructively to bring the transition to an end.
But as we know, we must not become complacent, there are major challenges ahead. These include economic recovery, improving basic services, strengthening governance and combating corruption. Once the government is formed and has had time to work through their programme we are ready to offer our support. And as a sign of our long-term commitment to Somalia, we plan to open our new Embassy in Mogadishu next spring, if security conditions permit.
As we look to the future, a new partnership between Somalia and the international community is now required. With Somalia's friends and neighbours helping the new government to govern effectively, I hope that we can agree a way of developing our partnership - all of us - with the Somali Government over the coming months. In our view this should include agreeing the Joint Financial Management Board as an important tool to tackle corruption. It is also crucial that International Financial Institutions re-engage as soon as possible to support Somalia in the next phase of state building.
It gives me great pleasure to announce now that the United Kingdom will provide an additional £10 million to help the new government of Somalia with its immediate needs. Given the priorities set by the new President, we envisage this will go towards better governance, increasing the capacity of government institutions, building links between our parliaments, helping resolve constitutional issues, continuing to sponsor the discussions between Somalia and Somaliland that began in the UK in June, giving support on security and justice, and developing a free media. This is in addition to our humanitarian aid.
The scale of the task ahead is large, and expectations are high, but I hope that Somalia's new government can capitalise on the wave of good will, confidence and optimism to steer Somalia further along the road to peace and recovery. Somalia will have the unswerving support of the United Kingdom as it does so.
Published 27 September 2012