The UK & UAE: A relationship that will continue to prosper
Minister for the Middle East Alistair Burt hosted UK-UAE talks in London on 21 March.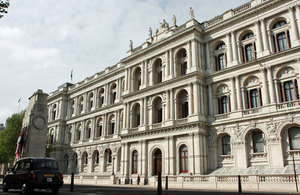 Speaking after the meeting the Foreign Office Minister said:
"I was delighted to host His Excellency Dr Anwar Gargash, the UAE's Minister of State for Foreign Affairs, at the seventh meeting of UK/UAE Taskforce this week. With over 100,000 British citizens living, working and studying in the UAE we naturally have close and valued ties. This relationship has thrived in the 18 months since the Taskforce was set up, with the strengthening of commercial and educational links and close cooperation on key challenges in the region.
"The UAE was a key partner in the London Somalia Conference and we look forward to their conference in June on tackling piracy in the region. We welcome progress on the jointly funded Route 611 infrastructure project in Afghanistan which will bring significant economic benefits to south-eastern Afghanistan. We have also reinforced our commitment to the UK/UAE energy partnership and can today confirm a new working group will be set up to identify renewable energy projects in third countries.
"With a shared understanding of the threats and challenges facing our countries, and the wider region, I'm certain our relationship will continue to prosper in the months and years ahead."

Published 22 March 2012